Steps to Become a Firefighter
Becoming a firefighter in the United States involves several steps, including meeting certain requirements, obtaining the necessary education and training, and passing a series of tests and evaluations. Here are the general steps to become a firefighter in the US:
Featured Programs and Schools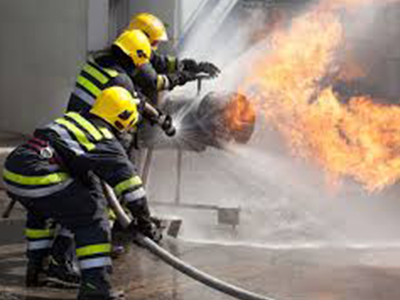 Meet Basic Requirements
Be at least 18 years old (21 in some jurisdictions).
Have a high school diploma or GED.
Hold a valid driver's license.
Be a U.S. citizen or have a valid work permit.
Pass a background check and drug screening.
Obtain Emergency Medical Technician (EMT) Certification
Complete an EMT-Basic training course, which typically takes 120-150 hours.
Pass the National Registry of Emergency Medical Technicians (NREMT) exam.
Consider Obtaining a Fire Science Degree or Related Education
Although not always required, having an associate's or bachelor's degree in fire science, emergency management, or a related field can improve your chances of being hired.
Apply for a Firefighter Position
Look for open positions in your local area or other jurisdictions, and submit your application according to the specific requirements.
Pass the Written Exam
Most fire departments require applicants to pass a written test, which may cover topics such as math, reading comprehension, mechanical aptitude, and situational judgment.
Pass the Physical Ability Test
The Candidate Physical Ability Test (CPAT) or another similar test will assess your physical fitness and ability to perform the job duties of a firefighter.
Complete an Interview
Successful applicants will be invited for an interview with fire department personnel, where they'll evaluate your interpersonal skills, problem-solving abilities, and suitability for the job.
Pass medical and Psychological Evaluations
You will need to pass a thorough medical examination and a psychological evaluation to ensure you can handle the physical and mental demands of the job.
Attend a fire Academy
If you are hired, you will attend a fire academy, which typically lasts 3-6 months. The training includes classroom instruction, physical training, and hands-on experience in firefighting techniques, hazardous materials, and rescue operations.
Complete a Probationary Period
After graduating from the fire academy, new firefighters usually go through a probationary period (6-12 months) where they work under the supervision of experienced firefighters and are evaluated on their performance.
Remember that requirements and processes may vary depending on the jurisdiction and the specific fire department, so it is crucial to research the exact requirements for the area in which you wish to serve.
How Long Does It Take To Become A Firefighter
The time it takes to become a firefighter in the United States can vary depending on factors such as the application and hiring process, obtaining required certifications, and completing the fire academy. Here is a general timeline for becoming a firefighter:
Basic requirements and EMT Certification: 3-6 Months
Completing an EMT-Basic course typically takes 3-6 months, depending on the program's schedule and intensity. After completing the course, you will need to pass the NREMT exam.
Optional Fire Science Degree: 2-4 years
While not always required, obtaining an associate's degree in fire science or a related field can take 2 years. A bachelor's degree typically takes 4 years to complete. This step can be pursued concurrently with EMT certification or after becoming certified.
Application, testing, and Hiring Process: 3-12 months
The time it takes to apply for a position, take the written exam, complete the physical ability test, and go through interviews, background checks, and medical and psychological evaluations can vary widely. It can take anywhere from 3 months to over a year, depending on the department and the number of applicants.
Fire Academy: 3-6 Months
The duration of a fire academy varies depending on the program, but it typically takes 3-6 months to complete.
Probationary Period: 6-12 Months
After graduating from the fire academy, new firefighters usually undergo a probationary period lasting from 6 to 12 months.
In summary, becoming a firefighter in the US can take anywhere from around 1.5 years (without obtaining a degree) to over 6 years if you choose to pursue a bachelor's degree in fire science or a related field. The exact timeline will depend on factors such as your education and the hiring process in the specific jurisdiction where you are applying.