Detroit,MI: How to Become a Firefighter
"We're here for you when emergency strikes" – says the Detroit Fire Department on its official website. The department works hard, day and night, to keep the residents of The Motor City safe from hazardous events. It is always on the lookout for new members to try and bring down the average death rate in residential fires in the city, which is a high 47. The 46 firehouses in the city can always use some fresh new blood to combat fires in various settings. If you think you are suited for this tough but rewarding job, then the following information on how to become a fire fighter in Detroit would be of interest to you.
Featured Programs and Schools
Requirements to Become a Firefighter in Detroit
The requirements to become a firefighter in Detroit are as follows:
Applicants must be at least 18 years of age
Applicants ought to be citizens of the US
Applicants should have a valid motor vehicle operator's license
Applicants should have at least a high school diploma or a GED at the time of appointment
Steps to Become a Firefighter in Detroit
Once you have satisfied the above requirements, you can move on to the actual recruitment process for firefighters in Detroit.
Complete and Submit Your Application
This would include clearing all the above stated requirements and providing the necessary documentation for it
Complete the Written Exam (Phase 1) and the Physical Capability Test and Oral Assessment (Phase 2)
This testing will be done under the Detroit Municipal Civil Service Commission. Candidates who get a sufficiently high score on these tests will be moved to the next step. Test materials will be provided before the exams.
Clear the Background Investigation
This would involve a history questionnaire, along with a pre-interview and fingerprints. Candidates will also have to sign waivers allowing investigators to conduct a check on them.
Clear an Oral Interview
This will be conducted by the Fire Department Human Resources representatives
Pass the Medical/Stress Evaluation
This will include a physical exam including a cardiovascular stress test and vision checks.
Get Appointed
A list of shortlisted candidates will be submitted to the Executive Fire Commissioner for the final selection and appointment to the Detroit Fire Department Training Academy. Fire Recruits will then have to complete a five-week long paid fire academy training. Following this, candidates will have to complete a 1-year probation period.
How Much Do Firefighters Make in Detroit?
Salary data for firefighters in Detroit is not available. However, firefighters in Michigan made an annual mean income of $49,170 in 2020, as per the US Bureau of Labor Statistics.
Top Paying States for Firefighters in the US
The following are the top paying states for firefighters in Michigan: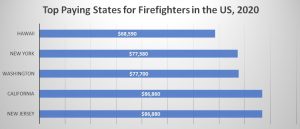 How Long Does It Take to Become a Firefighter in Detroit?
The application process can take several months. This will be followed by a 5-week long fire academy training and then eventually a 1-year long probationary period. You will begin getting paid to work once you begin your training academy.
Career Outlook for Firefighter in Detroit
As per the latest figures published by O*Net Online, firefighters employed in the state of Michigan are expected to experience a job growth of -2% from 2018 to 2028.