Charlotte,NC: How to Become a Firefighter
The Charlotte Fire Department has been saving lives and protecting the citizens of the 'Queen City' since 1887, performing functions such as fire suppression, hazardous materials mitigation, fire-responder emergency medical services and technical, dive and aircraft rescue firefighting. The department has been diligently serving its mission of preserving the life and property of the citizens of Charlotte through its rapid emergency response, education, planning and code enforcement. With its 1,160 men and women, including 1,040 firefighters, the department is always hard at work.
Featured Programs and Schools

If you want to become a part of this outstanding fire department, you will find all the information you need in the following guide on how to become a firefighter in Charlotte.
Requirements to Become a Firefighter in Charlotte
Firefighters are highly skilled professionals that require a lot of training before they can begin their careers. To become a firefighter in Charlotte, you will have to meet a minimum set of requirements, which are as follows:
Candidate must be at least 18 years of age
Candidate must have a high school diploma or a GED
Candidate must have an honorable military discharge, if applicable
Candidate must meet the medical requirements outlined in NFPA 1582. This entails that applicants have the agility and physical strength to do difficult work for long hours in unfavorable conditions. This would typically include activities like lifting, moving and maintaining position on items up to 90 pounds; pull objects from 25 to 50 pounds, lift victims weighing more than 150 pounds etc.
Candidates must have the ability to think critically and solve complex problems in hazardous environments and tiring physical conditions
Candidates must have a valid driver's license
Candidates must have a clean criminal record with no conviction of a felony offense
Candidates must not have used any illegal drugs within 12 months of the date of the written exam
If these conditions are met, aspiring firefighters in Charlotte would have to clear a Written Assessment Exam, the CPAT, background and panel interviews, polygraph exam, background investigation and a pre-employment drug screen and medical tests.
How Much Do Firefighters Make in Charlotte?
According to the latest data provided by the US Bureau of Labor Statistics, newly hired firefighters in North Carolina made an annual income of $34,230 in 2020. Below is a list of the highest paying US states for firefighters in 2020.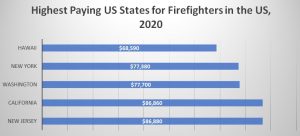 Source: US Bureau of Labor Statistics
How Long Does It Take to Become a Firefighter in Charlotte?
To become a firefighter in Charlotte, you will have to spend at least a few months to complete the application and training process. If you wish to go for an undergraduate degree in fire science to set yourself apart from the rest of the applicants, that would take you an additional two to four years. The eventual hiring process will be dependent on your test scores and the availability of positions in the Charlotte Fire Department.
Career Outlook
According to the latest figures published by O*Net Online, firefighters in North Carolina will enjoy 7% job growth between 2018 and 2028.