New Jersey,NJ: How to Become a Firefighter
According to the U.S. Fire Administration's 2021 statistics, 1,000 reported fires in the nation resulted in 2.3 deaths and 7.2 injuries. Whereas in New Jersey, out of 1,000 reported fires, 2.7 deaths and 7.8 injuries were reported. The state is hard at work to bring these numbers down. If you want to play your part in that by becoming a firefighter, then read this article for more details.
Featured Programs and Schools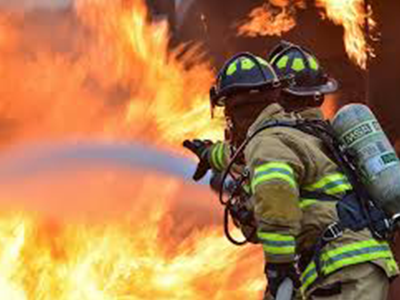 Job Duties of a Firefighter in the state of New Jersey
The job duties of a firefighter can vary depending on the specific role, department, and jurisdiction, but there are several common responsibilities. The duties of firefighters in most U.S. states, including New Jersey, are fairly similar.
Basic Job Duties
Fire Suppression: Extinguish fires using water, foam, or other agents.
Rescue Operations: Remove people from dangerous situations, which could range from fires to car accidents.
Medical Aid: Provide basic medical assistance, such as first aid and CPR, until paramedics arrive.
Equipment Operation: Operate various types of equipment including pumps, hoses, and ladders.
Inspection and Maintenance: Regularly inspect equipment and perform basic maintenance to ensure readiness.
Fire Prevention: Participate in community programs aimed at fire prevention, including inspections and educational programs.
Training: Engage in continuous training in fire suppression techniques, hazardous material control, local building codes, and emergency medical procedures.
Communication: Maintain open lines of communication with team members, superiors, and other emergency services like police and medical personnel.
Reporting: Complete accurate reports on incidents, equipment, and other required paperwork.
Station Duties: Perform chores around the fire station, including cleaning and cooking.
Additional Responsibilities
Hazardous Material Handling: Depending on the specialization and training, some firefighters handle hazardous materials incidents, working to contain and manage dangerous substances.
Water Rescue: In some cases, firefighters in New Jersey may also need to be trained in water rescue operations given the state's coastline.
Wildfires: Depending on the region within the state, firefighters may also need to combat wildfires.
Emergency Medical Services (EMS): Some firefighters are also trained as EMTs or paramedics and can provide a higher level of medical care.
Community Outreach: Firefighters often engage in community outreach, educating the public about fire safety.
Disaster Response: In the case of natural disasters like hurricanes, which can affect states like New Jersey, firefighters may also be involved in broader emergency response activities.
Local regulations, union contracts, and department policies can all affect the specific duties of a firefighter in New Jersey. Specializations and ranks within the fire department also come with additional responsibilities and requirements. Remember to consult local and state guidelines for the most accurate and region-specific information.
Requirements to Become a Firefighter in New Jersey
The following list of requirements may vary from county to county within the state. Furthermore, city to city requirements may vary too. Therefore, treat the following as a general guideline only:
Age – Applicants must be at least 18 years of age at the time of filing of application and at least 21 years of age at the time of hiring
Citizenship – Applicants must be citizens of the US
Education – Applicants must have at least a high school diploma or its equivalent. However, more and more employers now prefer applicants with some college education and/or pre-hospital care (EMT/paramedic) certifications
Driver's License – Applicants must possess the State of New Jersey's valid driver's license
Discharge from the Armed Forces – Applicants with a dishonorable discharge may not be considered for employment
Criminal Record – Applicant's background is thoroughly checked including criminal history and if they have been convicted of felony or misdemeanors, they may not be considered for employment
Drug Screening – Applicants must pass a thorough drug screening for marijuana, heroin, cocaine, amphetamine and other illegal drugs use to be considered for employment
Medical and Psychological – Applicants must pass a thorough medical and psychological exam. This is conducted to determine whether they can perform the functions of a firefighter
Polygraph Test – To cross-check the truthfulness of the information on the application, your future employer will ask you to take a polygraph test. You must pass this test to be considered for employment
How Long Does It Take to Become a Firefighter in New Jersey
The path to becoming a firefighter in New Jersey can vary depending on several factors such as the specific department, the requirements of the jurisdiction, and the level of specialized training a candidate may pursue.
Basic Steps and Time Estimates
Meet Basic Requirements: Before you can apply to be a firefighter, you generally must be at least 18 years old, have a high school diploma or GED, and possess a valid driver's license. Some departments may also require candidates to live within the state or even within the jurisdiction of the fire department.
Time: Immediate
EMT Certification: Some departments require you to be certified as an Emergency Medical Technician (EMT). Training courses for EMT certification typically take around 3 to 4 months, though this may vary.
Time: 3-4 months
Fire Academy Training: If accepted into a firefighter training program, you'll undergo intensive training at a fire academy. Training programs vary in length but may last anywhere from 12 to 24 weeks.
Time: 3-6 months
Written and Physical Exams: Candidates generally must pass written examinations that cover firefighting techniques and procedures, as well as local building codes. Physical tests evaluate your fitness for the physically demanding aspects of firefighting.
Time: Varies
Medical and Psychological Evaluation: Includes a full medical examination and may also include psychological testing to assess your suitability for the role.
Time: Varies
Background Check and Interviews: Thorough background checks are conducted, and you may be subject to multiple rounds of interviews.
Time: Varies
Probationary Period: After successful completion of training and hiring processes, you will typically serve a probationary period where your skills and suitability for the role are further evaluated.
Time: Usually 6-12 months
Additional Training and Career Development
Specialized Training: If you aim to specialize in a particular area like hazardous materials or water rescue, you will need additional training and certifications.
Promotion: Advancing to roles like Fire Lieutenant, Fire Captain, or even Fire Chief will require further years of experience and additional examinations.
Total Time Estimate
Considering all these steps, it might take a minimum of about 1-2 years from meeting the basic requirements to becoming a fully-qualified firefighter, not including any specialized training or higher education you may wish to pursue. Note that timeframes are approximate and can vary widely depending on the specific requirements of the department to which you are applying.
Remember to consult local and state guidelines for the most accurate and region-specific information.
How Much Do Firefighters Earn in New Jersey?
New Jersey is the second highest paying US State for firefighters in the United States. The following statistics are taken from the US Bureau of Labor Statistics (BLS) and hold true as of May 2022:
| | | |
| --- | --- | --- |
| State | Annual Mean Wage  | Employment  |
| California | $78,350 | 32,930 |
| New Jersey | $77,740 | 6,310 |
| Washington | $76,930 | 7,200 |
| New York | $73,520 | 14,150 |
| Hawaii | $72,880 | 1,770 |
Employment Prospects
According to the O*Net OnLine, jobs in this field will grow at the rate of 5% in New Jersey from 2020 to 2030.
Tip: If you can't find employment right away, consider volunteering at your local fire station. This will help you learn skills to become a firefighter and network. So, when a vacancy comes up, you become the most suitable candidate for the job.
Picking the Right Degree to Become a Firefighter in New Jersey
In New Jersey, as in many other states, a college degree is not always a requirement for becoming a firefighter. Many fire departments require only a high school diploma or GED along with completion of a training academy. However, pursuing a degree can provide numerous benefits including better preparation for the job, increased competitiveness in the hiring process, and opportunities for career advancement. Here are some options to consider:
Types of Degrees
Associate's Degree in Fire Science or Fire Technology
A two-year program that covers the basics of firefighting, emergency medical services, fire prevention, and more.
It can be a stepping stone to a bachelor's degree and is a good initial investment in your education.
Bachelor's Degree in Fire Science or Fire Engineering
A four-year program that provides a deeper understanding of fire dynamics, building codes, fire investigation, and leadership skills.
This could be beneficial for those looking to move into leadership roles or specialized areas.
Emergency Medical Services (EMS) or Paramedic Degree
Some firefighters are also trained paramedics, and having this training can make you more competitive in the hiring process.
Programs usually last between 1-2 years.
Public Administration or Public Safety Degrees
Useful for those looking to move into leadership or administrative roles within the fire service.
Engineering Degrees (Mechanical, Civil, Chemical)
Particularly useful if you are interested in fire prevention, fire safety engineering, or becoming an arson investigator.
Certificates in Specialized Areas
These are not degrees but can complement your training in areas like hazardous materials handling, fire investigation, or specialized rescue operations.
Factors to Consider
Local Requirements: Different departments have different requirements, so it's essential to check what your target department expects or prefers.
Career Goals: If you aim to specialize or take on leadership roles, a more advanced degree may be beneficial.
Cost and Time: Degrees require a financial and time investment, so consider how these factors weigh against potential benefits like increased salary or career advancement.
Online vs. In-person: Some degrees and certificates are available online, offering more flexibility.
Accreditation: Make sure the program you choose is accredited and recognized by relevant educational and fire service organizations.
Internships and Volunteering: Some programs offer the opportunity to gain practical experience, which can be valuable in the hiring process.
Pursuing a degree can enhance your knowledge, skills, and employability but it's not the only path into firefighting. Practical experience, physical fitness, and on-the-job training are also highly valued. Always check with your local and state fire departments for the most current and relevant advice.
Firefighter Colleges in New Jersey
There are several educational institutions in New Jersey that offer fire science, emergency management, or related programs geared toward those interested in becoming firefighters or advancing in the field. Here are some examples:
Colleges and Universities
Rutgers University – Offers a Bachelor's in Public Health with courses related to emergency management. This can be beneficial for firefighters aiming for administrative or leadership roles.
Kean University – Offers programs in public administration and public safety, suitable for those aiming for leadership roles in firefighting services.
Montclair State University – Offers programs in public health and safety which might be beneficial for those interested in fire service administration or public safety leadership roles.
Community Colleges
Bergen Community College – Known to offer an Associate's Degree in Fire Science Technology, providing foundational knowledge in fire behavior, tactics, and prevention.
Mercer County Community College – Offers an Associate Degree in Fire Science that covers fire investigation, safety and prevention, and emergency services.
Camden County College – Offers fire science and emergency management courses, potentially as part of an Associate Degree.
Fire Academies and Training Centers
Morris County Public Safety Training Academy – Offers a range of firefighting courses, from basic to advanced levels.
Middlesex County Fire Academy – Provides various levels of training and certifications useful for both new and experienced firefighters.
Monmouth County Fire Academy – Offers training programs that may cover firefighting basics, specialized areas like hazardous materials, and rescue operations.
Burlington County Emergency Services Training Center – Provides various firefighter training courses, including Firefighter I and Firefighter II certification programs.
The availability of programs and courses may change over time, so it's essential to check with the specific institution for the most current information. Some firefighters choose to start at a community college and then transfer to a four-year institution to complete a bachelor's degree, often while gaining practical experience through volunteer or part-time firefighting positions.
If you're considering becoming a firefighter in New Jersey, you should investigate these options further to see which best suits your career goals and educational needs. Always check the accreditation and affiliations of the program you are interested in and consult with your local fire departments for recommendations and requirements.
Fire Departments in New Jersey
New Jersey is home to many fire departments, both large and small, serving its numerous cities, towns, and municipalities. Fire departments in New Jersey can be volunteer-based, career-based, or a combination of both. Here's a brief overview of some of the fire departments in the state:
Larger Cities
Newark Fire Department: As the largest city in New Jersey, Newark has a sizable fire department that serves a diverse and densely populated area.
Jersey City Fire Department: This department is another large organization, responsible for fire prevention and emergency services in Jersey City.
Paterson Fire Department: Serving the city of Paterson, this department has multiple stations and offers various services including fire suppression and emergency medical services.
Elizabeth Fire Department: Provides fire protection and emergency services to the city of Elizabeth, one of the state's larger cities.
Trenton Fire Department: This department is responsible for serving New Jersey's capital city, Trenton.
Smaller Cities and Municipalities
Cherry Hill Fire Department: This department serves the Cherry Hill area, providing fire suppression, rescue services, and community outreach programs.
Morristown Fire Department: A smaller department serving the Morristown area, known for its commitment to community engagement.
Montclair Fire Department: This department provides services to the Montclair community and is known for its historical significance and community outreach efforts.
Princeton Fire Department: Serves the community of Princeton, including the university campus.
Hoboken Fire Department: This department provides fire protection services to the city of Hoboken, which is situated along the Hudson River.
County and Specialized
Bergen County Fire Department: Provides specialized services and mutual aid across Bergen County.
Camden County Fire Rescue: Provides fire services across Camden County and may also offer specialized training.
Monmouth County Fire Academy: Provides training and supports various fire departments in Monmouth County.
Morris County Public Safety Training Academy: Offers fire service training to departments in Morris County.
New Jersey Forest Fire Service: This specialized service is responsible for wildfire management and protection of forested lands within the state.
This is not an exhaustive list, but it gives you an idea of the diversity of fire departments across the state. Each department will have its own set of requirements, training programs, and application procedures, so it's important to research and get in touch with departments directly for the most accurate and current information.
Other States