Firefighters are trained professionals who control and put out fires and respond to emergencies relating to life and property at risk. They perform a variety of tasks such as driving fire trucks and putting out fires using water hoses, water pumps or fire extinguishers. They also rescue victims from burning structures, treat fire victims on an emergency basis, write reports on emergency incidents and conduct drills and physical fitness trainings.

Since the duties of firefighters have a lot to do with saving lives and rescuing people in distress, it is very important to be properly educated and trained before getting into this field. For those of you interested in this field, firefighter salary data would also be of great interest. The following guide provides detailed information on the salaries of firefighters, along with a quick look into how to become a firefighter in US.
Firefighters in the US – A Quick Glance
As per the National Fire Protection Association report published in 2019, there were nearly 1,056,200 firefighters in the US in 2017. 35% of these were career firefighters while 65% were volunteers. There were an estimated 29,819 fire departments in the US. 21.1% of the firefighters were in the age bracket of 20-29 years, while 27.1% fell in the age bracket of 30-39.
Firefighter Salary Trends in the US
According to 2018 data from the US Bureau of Labor Statistics, Firefighters in the US made an annual mean income of $53,240, with a mean hourly wage of $25.60. The top three paying industries for this occupation were Scientific Research and Development Services with an annual mean wage of $67,850, Remediation and Other Waste Management Services, with an annual mean wage of $67,740 and Aerospace Product and Parts Manufacturing, with an annual mean wage of $62,700.
The top paying state for firefighters was California, with an annual mean wage of $81,580. Let's take a look at the annual mean wages of the top 5 highest paying states for this occupational category in 2018.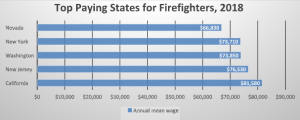 Source: US Bureau of Labor Statistics
As depicted by the above chart, the salary for firefighters varies according to state. Salaries may also vary according to individual department's policies.
To further put things into perspective, let's take a look at how the salaries for Firefighters have grown over the years from 2016 to 2018.
| Year | Annual Mean Salary |
| --- | --- |
| 2016 | $50,520 |
| 2017 | $51,930 |
| 2018 | $53,240 |
Source: US Bureau of Labor Statistics
Job Outlook for Firefighters
The US Bureau of Labor Statistics has reported a job growth of 5% for firefighters in the US between 2018 and 2028. This growth is almost as fast as the average for all occupations. Even though better building materials and stricter regulations have caused an overall decrease in fire outbreaks, firefighters are still needed to respond to fires all across the country. And with climate change taking a toll on the planet, wildfires have become a very real concern. 2019 was one of the worst years for wildfires, with massive blazes in Australia, the Amazon and California. With such incidents becoming more common, it comes as no surprise that firefighters will continue to stay in demand.