Louisiana,LA: How to Become a Firefighter
Louisiana is a state that faces various natural disasters, such as hurricanes, floods, and wildfires, making firefighting an essential service in the region. Firefighters in Louisiana work tirelessly to protect people, property, and the environment from the devastating effects of fires and other emergencies. If you're passionate about helping others, enjoy working in a team, and have a desire to make a positive impact in your community, becoming a firefighter in Louisiana might be the perfect career for you. With a clear understanding of the requirements and training involved, along with dedication and hard work, you can pursue your dream of becoming a firefighter in Louisiana and make a real difference in the lives of others.
Featured Programs and Schools

If you want to be a part of the fire fighting force in Louisiana, the following information would be of interest to you: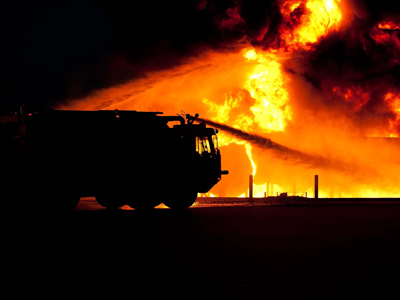 What Education Do I Need to Be a Firefighter?
| | |
| --- | --- |
| Educational Requirements | Postsecondary nondegree award |
| Licensure/Certification | Certification and License is mandatory |
| Experience/Training | Firefighter Training Academy |
| Key Skills | Quick Response, Teamwork, Courage, Physical Fitness, Adaptability, Work Under Pressure, Mechanical Aptitude, First Aid |
| Annual Mean Salary – Louisiana, LA (2021) | $ 33,400 per year |
| Job Outlook – Louisiana, LA (2020 – 2030) | 10% |
Source: U.S. Bureau of Labor Statistics (2021)
Louisiana Firefighter Requirements
The requirements for becoming a firefighter in the State of Louisiana largely vary according to the jurisdiction. However, most jurisdictions have the following set of general requirements applicable to all aspiring firefighters in the state:
All applicants must be citizens of the US and should be of legal age. They must also meet the requirements of the Municipal Fire and Police Civil Service Law.
After the employment offer, and before beginning the job, all firefighters will be required to pass a physical exam.
Applicants ought to possess any of the following: "high school diploma, high school equivalency certificate, high school transcript, affidavit from the issuing high school, associate's or bachelor's degree, or college transcript, any one of which must indicate that graduation has occurred or a degree awarded. A certification of completion shall not be sufficient to substitute for a diploma or equivalency certificate."
Candidates need to have a valid driver's license.
Candidates should not be less than 18 years old.
Note: Please make sure you check the exact requirements of the jurisdiction you are planning to apply in, since most jurisdictions will have additional requirements.
Steps to Become a Firefighter in Louisiana
The following steps detail the general process to become a firefighter in Louisiana. The exact jurisdiction-level requirements may vary, so you are advised to check with your local authorities before beginning your application process.
Step 1: Ensure you meet the Qualification Criteria
The general version of this criteria is discussed above. For the specific requirements, you will need to visit the website of your concerned jurisdiction.
Step 2: Clear a Written Examination
This will typically be a timed examination including multiple-choice questions covering basic education topics such as grammar, vocabulary and Louisiana driving laws. You will be notified of the date, location and time of the exam by the civil service board, after you have submitted the application. Exam dates are added on a continuous basis.
Step 3: Clear the Physical Abilities Test
This test will gauge your physical strength and fitness, which is a very important aspect of firefighting. You will have to perform various exercises that firefighters typically perform, such as carrying heavy equipment, climbing ladders and so on. Before the actual test, you may ask your future employer for practice test opportunities. Avail this opportunity to increase your chances of passing this phase in the recruitment process.
Step 4: Contact the Relevant Jurisdiction
After obtaining a passing exam score, you will be required to contact the jurisdiction you want to work for and find out the next steps. You will not be notified of your score by the Office of State Examiner. Scores will be available within 4 to 6 weeks from the exam date at the examining jurisdiction. The score will be good for 18 months from the day the examining jurisdiction's civil service board meets to approve the test scores.
Step 5: Enroll in a Fire Academy
Once you have cleared the above process, you will have to enroll in a fire academy. Several Louisiana fire departments provide trainings through their own academies or send their recruits to trainings on their own account. The LSU Fire and Emergency Training Institute is one such institute that provides a number of different training specialties including EMT, HazMat and others. Other fire academies in Louisiana are the Jefferson Parish Fire Training Academy, the Shreveport Fire Academy and the Bossier City Fire Department Training Division.
The academy training is extremely fast-paced and those who do not have any previous training or experience are likely to have a tougher time. So try to get yourself involved within your community by volunteering and networking beforehand. You are also encouraged to take fire science and EMT courses prior to getting hired by the fire department. The stronger your background in the subject, the better your chances of success.
Additional Tips for Aspiring Firefighters
If you're serious about becoming a firefighter in Louisiana, here are some additional tips to keep in mind:
Stay in good physical shape and maintain a healthy lifestyle to prepare for the physical demands of the job.
Volunteer at a local fire department or participate in community service activities to gain experience and demonstrate your commitment to the profession.
Network with firefighters and fire department personnel to learn more about the job and potential opportunities.
Keep up-to-date on advances in firefighting technology and techniques by reading industry publications and attending training seminars and workshops.
How Long Does it Take to Become a Firefighter in Louisiana?
The amount of time needed to become a firefighter in Louisiana depends on the path you take. For instance, you can choose to get a degree in fire science before you apply. This could be an associate degree which lasts two years, or a bachelor's degree, which lasts four years. Following this, you will need to complete EMT training, which can take up to three years. You will also need at least one year of volunteer work before you begin the application process. This application process may take up to 2 years, depending on the availability of positions. Once the process is cleared, you will have to complete at least a 6-month long training session, followed by 6 months to 1 year of probation.
How Much Does a Firefighter Make in Louisiana?
The salary and benefits for firefighters in Louisiana may vary depending on the city or department you work for. However, according to the Bureau of Labor Statistics (2021), the median annual wage for firefighters in Louisiana was $33,400. Additionally, firefighters may receive benefits such as health insurance, retirement plans, and paid vacation and sick leave.
Career Outlook for Becoming a Firefighter in Louisiana
The outlook for firefighters at a national level is positive at 4% between 2021-2031 which is as fast as the average growth for all occupations. In Louisiana, the projected growth between 2020-2030 is 10% and it is due to the increasing wildland fires. Louisiana's Department of Agriculture and Forestry's special Forest Protection Branch is responsible to train firefighters.
Other States