Louisiana,LA: How to Become a Firefighter
Louisiana is a state that faces various natural disasters, such as hurricanes, floods, and wildfires, making firefighting an essential service in the region. Firefighters in Louisiana work tirelessly to protect people, property, and the environment from the devastating effects of fires and other emergencies.
If you're passionate about helping others, enjoy working in a team, and have a desire to make a positive impact in your community, becoming a firefighter in Louisiana might be the perfect career for you. With a clear understanding of the requirements and training involved, along with dedication and hard work, you can pursue your dream of becoming a firefighter in Louisiana and make a real difference in the lives of others.
Featured Programs and Schools

If you want to be a part of the fire fighting force in Louisiana, the following information would be of interest to you: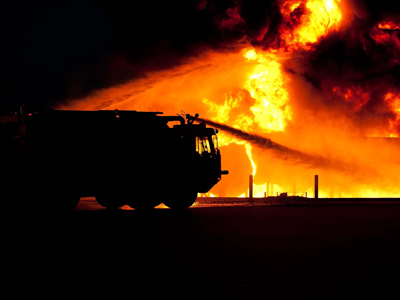 What Education Do I Need to Be a Firefighter?
| | |
| --- | --- |
| Educational Requirements | Postsecondary nondegree award |
| Licensure/Certification | Certification and License is mandatory |
| Experience/Training | Firefighter Training Academy |
| Key Skills | Quick Response, Teamwork, Courage, Physical Fitness, Adaptability, Work Under Pressure, Mechanical Aptitude, First Aid |
| Annual Mean Salary – Louisiana, LA (2022) | $ 32,320 per year |
| Job Outlook – Louisiana, LA (2020 – 2030) | 10% |
Source: U.S. Bureau of Labor Statistics (2022)
Firefighter Job Duties in Louisiana
The duties of firefighters can be consistent across many U.S. states, including Louisiana. However, specific tasks and responsibilities might vary based on the municipality, district, or particular challenges of the region (like areas with a high risk of wildfires, industrial zones, etc.). Generally speaking, firefighters in Louisiana can be expected to perform the following duties:
Respond to Emergency Calls: This is the primary duty of a firefighter. When a call comes in, they need to quickly and efficiently respond, whether it's for a fire, medical emergency, or other incident.
Fire Suppression: Firefighters combat and extinguish fires to protect lives and property.
Rescue Operations: This includes rescuing individuals from fires, car accidents, flooded areas, or any other emergencies.
Provide Medical Care: Many firefighters are also trained as EMTs or paramedics and will provide basic to advanced life support as needed at emergency scenes.
Conduct Fire Inspections: They inspect buildings for fire hazards and ensure that they comply with fire codes.
Fire Prevention: This includes educating the public about fire safety, conducting presentations at schools and community events, and promoting fire prevention methods.
Maintenance of Equipment and Apparatus: Keeping equipment, tools, and vehicles in optimal working condition is vital. This includes regular inspections, cleaning, and maintenance tasks.
Training and Drills: Firefighters frequently undergo training sessions and participate in drills to stay current with the latest firefighting techniques, tools, and safety protocols.
Hazardous Material Handling: Firefighters are trained to manage and mitigate incidents involving hazardous materials, such as chemical spills.
Fire Investigation: Some firefighters, especially those with specialized training, may be involved in determining the cause of fires.
Maintain Fitness: Given the physical demands of the job, firefighters are often required to maintain a certain level of physical fitness and might need to participate in regular fitness routines or assessments.
Administrative Duties: Depending on their rank and role within the department, firefighters might be involved in administrative tasks, record-keeping, or report writing.
Participate in Community Services: Many fire departments play a role in community events or services, such as blood drives, community fairs, and safety demonstrations.
Stay Updated: Firefighters must keep up-to-date with changes in technology, regulations, and best practices related to firefighting and emergency response.
It's essential to note that while these duties provide a general overview of a firefighter's responsibilities, specific tasks can depend on the firefighter's rank, specialty (e.g., fire investigator, driver/engineer, fire captain), and the particular needs or challenges of the region in which they serve.
Louisiana Firefighter Requirements
The requirements for becoming a firefighter in the State of Louisiana largely vary according to the jurisdiction. However, most jurisdictions have the following set of general requirements applicable to all aspiring firefighters in the state:
All applicants must be citizens of the US and should be of legal age. They must also meet the requirements of the Municipal Fire and Police Civil Service Law.
After the employment offer, and before beginning the job, all firefighters will be required to pass a physical exam.
Applicants ought to possess any of the following: "high school diploma, high school equivalency certificate, high school transcript, affidavit from the issuing high school, associate's or bachelor's degree, or college transcript, any one of which must indicate that graduation has occurred or a degree awarded. A certification of completion shall not be sufficient to substitute for a diploma or equivalency certificate."
Candidates need to have a valid driver's license.
Candidates should not be less than 18 years old.
Note: Please make sure you check the exact requirements of the jurisdiction you are planning to apply in, since most jurisdictions will have additional requirements.
Steps to Become a Firefighter in Louisiana
The following steps detail the general process to become a firefighter in Louisiana. The exact jurisdiction-level requirements may vary, so you are advised to check with your local authorities before beginning your application process.
Step 1: Ensure you meet the Qualification Criteria
The general version of this criteria is discussed above. For the specific requirements, you will need to visit the website of your concerned jurisdiction.
Step 2: Clear a Written Examination
This will typically be a timed examination including multiple-choice questions covering basic education topics such as grammar, vocabulary and Louisiana driving laws. You will be notified of the date, location and time of the exam by the civil service board, after you have submitted the application. Exam dates are added on a continuous basis.
Step 3: Clear the Physical Abilities Test
This test will gauge your physical strength and fitness, which is a very important aspect of firefighting. You will have to perform various exercises that firefighters typically perform, such as carrying heavy equipment, climbing ladders and so on. Before the actual test, you may ask your future employer for practice test opportunities. Avail this opportunity to increase your chances of passing this phase in the recruitment process.
Step 4: Contact the Relevant Jurisdiction
After obtaining a passing exam score, you will be required to contact the jurisdiction you want to work for and find out the next steps. You will not be notified of your score by the Office of State Examiner. Scores will be available within 4 to 6 weeks from the exam date at the examining jurisdiction. The score will be good for 18 months from the day the examining jurisdiction's civil service board meets to approve the test scores.
Step 5: Enroll in a Fire Academy
Once you have cleared the above process, you will have to enroll in a fire academy. Several Louisiana fire departments provide trainings through their own academies or send their recruits to trainings on their own account. The LSU Fire and Emergency Training Institute is one such institute that provides a number of different training specialties including EMT, HazMat and others. Other fire academies in Louisiana are the Jefferson Parish Fire Training Academy, the Shreveport Fire Academy and the Bossier City Fire Department Training Division.
The academy training is extremely fast-paced and those who do not have any previous training or experience are likely to have a tougher time. So try to get yourself involved within your community by volunteering and networking beforehand. You are also encouraged to take fire science and EMT courses prior to getting hired by the fire department. The stronger your background in the subject, the better your chances of success.
Additional Tips for Aspiring Firefighters
If you're serious about becoming a firefighter in Louisiana, here are some additional tips to keep in mind:
Stay in good physical shape and maintain a healthy lifestyle to prepare for the physical demands of the job.
Volunteer at a local fire department or participate in community service activities to gain experience and demonstrate your commitment to the profession.
Network with firefighters and fire department personnel to learn more about the job and potential opportunities.
Keep up-to-date on advances in firefighting technology and techniques by reading industry publications and attending training seminars and workshops.
How Long Does it Take to Become a Firefighter in Louisiana?
The amount of time needed to become a firefighter in Louisiana depends on the path you take. For instance, you can choose to get a degree in fire science before you apply. This could be an associate degree which lasts two years, or a bachelor's degree, which lasts four years. Following this, you will need to complete EMT training, which can take up to three years. You will also need at least one year of volunteer work before you begin the application process. This application process may take up to 2 years, depending on the availability of positions. Once the process is cleared, you will have to complete at least a 6-month long training session, followed by 6 months to 1 year of probation.
How Much Does a Firefighter Make in Louisiana?
The salary and benefits for firefighters in Louisiana may vary depending on the city or department you work for. However, according to the Bureau of Labor Statistics (2022), the median annual wage for firefighters in Louisiana was $32,320. Additionally, firefighters may receive benefits such as health insurance, retirement plans, and paid vacation and sick leave.
Career Outlook for Becoming a Firefighter in Louisiana
The outlook for firefighters at a national level is positive at 4% between 2021-2031 which is as fast as the average growth for all occupations. In Louisiana, the projected growth for firefighters for 2020-2030 is 10% and it is due to the increasing wildland fires. Louisiana's Department of Agriculture and Forestry's special Forest Protection Branch is responsible to train firefighters.
Firefighting Careers in Louisiana
Firefighting careers in Louisiana, like in other states, encompass a range of roles and specializations. Each role might have different requirements for training, education, and experience. Here's an overview of potential firefighting careers in Louisiana:
Firefighter
This is the entry-level role. They respond to emergency calls, combat fires, perform rescues, and provide emergency medical care.
Driver/Engineer
Often considered the next step after being a basic firefighter, the driver/engineer is responsible for driving the fire truck to the scene and operating the pumps that deliver water from the hydrants to the fire hoses.
Fire Lieutenant
They supervise a team or unit of firefighters, ensuring that the crew functions efficiently during emergency responses and overseeing daily activities at the fire station.
Fire Captain
A higher rank than lieutenant, captains are responsible for managing multiple teams or units. They also play a significant role in training and might be involved in administrative tasks.
Battalion Chief
They oversee multiple fire stations or a particular section of the fire department, such as training or operations.
Fire Marshal or Fire Inspector
These individuals inspect buildings and environments to ensure they adhere to fire codes. They might also investigate the origins of fires.
Fire Investigator
These are specialized professionals who determine the cause and origin of fires. They work closely with law enforcement agencies, especially in cases of suspected arson.
Fire Instructor
They are responsible for training new recruits and ensuring that existing firefighters are up-to-date with the latest firefighting techniques and practices.
EMT/Paramedic
Many firefighters also train as EMTs or paramedics, given the frequent overlap in emergency response situations.
Hazardous Materials (HazMat) Technician
These firefighters specialize in handling incidents involving hazardous materials. They have specialized training to manage and mitigate threats from chemicals, toxins, and other hazardous substances.
Wildland Firefighter
Though Louisiana is not as prone to massive wildfires as some western states, there are areas where brush fires and smaller wildfires can occur. Wildland firefighters specialize in combating these types of fires.
Search and Rescue Specialist
These professionals specialize in finding and rescuing individuals from dangerous or hard-to-reach places.
Fire Department Administrative Roles
These can include positions like Public Information Officer (PIO), who manages communication with the media and the public, or administrative roles handling the logistics, finances, or HR for a fire department.
Fire Protection Engineer
These professionals design systems to prevent fires in buildings and other structures.
For those interested in pursuing a firefighting career in Louisiana, it's essential to research specific requirements, training, and opportunities in the state. Different municipalities and districts may have varied needs and specializations. Joining local fire department exploratory or volunteer programs can also provide hands-on experience and a clearer understanding of the job's demands.
Choosing the Right Firefighting Degree and Concentrations in Louisiana
Pursuing a firefighting degree can enhance your qualifications, offer specialized knowledge, and provide better opportunities for advancement within the fire service. If you're in Louisiana and considering this path, here's how you can go about choosing the right firefighting degree and concentrations:
Understand Your Career Goals
Before selecting a program, think about where you want to be in the future. Do you aim for a leadership position in a fire department? Or are you more interested in the investigative side, like arson investigations?
Degrees Offered
Associate's Degree in Fire Science: This is a two-year program covering the basics of fire behavior, fire prevention, and emergency procedures. It's an excellent starting point for those new to the field.
Bachelor's Degree in Fire Science or Fire Administration: A four-year program that dives deeper into topics like fire dynamics, building codes, and fire department management. It's suitable for those eyeing leadership roles or administrative positions.
Master's Degree in Fire Science or Fire Protection Engineering: This is for individuals aiming for high-level administrative roles, research positions, or specialized areas like fire protection system design.
Concentrations/Specializations
Fire Administration: Focuses on the management and operation of fire departments, including budgeting, HR, and strategic planning.
Fire Investigation: Teaches skills related to determining fire origins and causes, often with a focus on arson detection.
Fire Prevention: Concentrates on fire codes, building inspections, and public education to prevent fires.
Fire Protection Engineering: Delve into the design of fire protection systems and the science of fire behavior.
Emergency Medical Services (EMS): Combines firefighting knowledge with medical training. Some programs might allow you to get an EMT or paramedic certification.
Hazardous Materials: Focus on the handling and mitigation of hazardous material incidents.
Wildland Firefighting: Specialized training for fighting fires in forests and wildland-urban interfaces.
Accreditation
Ensure the program you're considering is accredited by a recognized accrediting body. This ensures that the education you receive meets specific industry standards.
Location & Mode
Louisiana offers both on-campus and online programs. Online can be a convenient option for those already working or those not near a campus. However, ensure the program provides opportunities for hands-on training, especially if it's fully online.
Faculty & Resources
Research the qualifications of the faculty. Experienced professionals with real-world firefighting experience can offer invaluable insights. Also, consider the facilities and resources available for training – modern equipment, simulation labs, and partnerships with local fire departments can be beneficial.
Cost & Financial Aid
Evaluate the total cost, including tuition, fees, and other expenses. Investigate scholarships, grants, or financial aid opportunities.
Networking Opportunities
Firefighting, like many professions, benefits from networking. Programs that provide opportunities for internships, job placements, or connections with local fire departments and organizations can be invaluable.
Feedback & Reviews
Talk to current students or alumni about their experiences. This can give you insights into the program's strengths and weaknesses.
In Louisiana, there are community colleges, state universities, and online institutions that offer degrees in fire science and related fields. Research and visit these institutions, and don't hesitate to ask questions. The right education can set a solid foundation for a successful career in the fire service.
Fire Departments in Louisiana
Louisiana is home to numerous fire departments that serve its cities, towns, and rural areas. These departments can be categorized based on their funding structure, resources, and the nature of their operation. Here's an overview of the different types of fire departments you might encounter in Louisiana:
Municipal Fire Departments
These are typically funded and operated by city or town governments. They serve specific municipalities and have paid, full-time firefighters.
Parish Fire Departments
In many states, these would be referred to as county fire departments. Since Louisiana has parishes instead of counties, some larger parishes might have their own fire department to serve unincorporated areas or multiple smaller communities within the parish.
Volunteer Fire Departments
Many smaller towns, communities, and rural areas in Louisiana are served by volunteer fire departments. These departments are primarily staffed by volunteers who undergo training similar to professional firefighters but might not be compensated or receive a small stipend for their services.
District or Fire Protection District Departments
These are special taxing districts established to provide fire protection services to specific regions. They can have paid staff, volunteers, or a combination of both.
Industrial Fire Departments
These are specialized fire departments that serve large industrial facilities, like oil refineries, chemical plants, or manufacturing facilities. They are trained to handle specific risks associated with the industry they serve.
Airport Fire Departments
These are specialized departments that serve airports. They are trained to respond to aircraft emergencies, including fires, rescues, and hazardous material situations.
Federal and Military Fire Departments
These serve federal properties, including military bases, national parks, and other federal facilities. They are staffed by federal employees and often have equipment and training tailored to the specific needs of their jurisdiction.
Each of these fire departments plays a crucial role in ensuring the safety and protection of Louisiana's residents, properties, and natural resources. While the structure and focus might differ among them, they all share the primary objective of preventing, mitigating, and responding to fires and other emergencies.
Firefighters Training Academies in Louisiana
Louisiana boasts several firefighter training academies that provide rigorous instruction, ensuring that firefighters are well-equipped to handle the various challenges they may face in their career. Here are ten firefighter training academies in Louisiana:
Louisiana State University (LSU) Fire and Emergency Training Institute (FETI)
Located in Baton Rouge, LSU FETI is one of the premier training institutes in the state, offering courses ranging from basic firefighter training to more specialized instruction.
New Orleans Fire Department Training Academy
This academy trains recruits for the New Orleans Fire Department. It's an intensive program that ensures firefighters are ready to serve one of the state's largest cities.
Shreveport Fire Department Training Academy
Situated in Shreveport, this academy provides training to both new recruits and incumbent firefighters, offering a blend of classroom instruction and hands-on exercises.
Alexandria Fire Department Training Academy
Serving Central Louisiana, this academy offers training programs that follow national standards, ensuring firefighters from this region are well-prepared for their duties.
Monroe Fire Department Training Academy
Located in Monroe, this academy is responsible for training the next generation of firefighters to serve the northern region of the state.
Lake Charles Fire Department Training Academy
In the western part of the state, this academy provides essential training to those who will serve in and around the Lake Charles area.
St. Tammany Parish Fire District #4 Training Academy
Serving the Northshore region, this academy offers comprehensive training programs that ensure firefighters are ready to handle emergencies in both urban and rural settings.
Jefferson Parish Fire Training Academy
Jefferson Parish's training academy provides foundational and specialized training to firefighters serving the area, covering a mix of urban and suburban environments.
Bossier Parish Fire District #1 Training Academy
Located in North Louisiana, this academy trains firefighters to serve the communities of Bossier Parish, providing them with the skills and knowledge to address a wide range of incidents.
Caddo Parish Fire District Training Academy
Also situated in North Louisiana, this academy ensures that firefighters serving the Caddo Parish area are equipped with the latest techniques and knowledge.
Most of these academies offer training that meets or exceeds the standards set by the National Fire Protection Association (NFPA). If you're considering attending one of these academies, it's essential to research their specific programs, requirements, and schedules to find the best fit for your career goals.
Other States