Featured Programs and Schools

Firefighters in the US are nearly always in demand, with thousands of calls being made to the fire department every year. In 2018 alone, 36,746,500 calls were made to fire departments across the country – a number which has risen from 10,819,000 in 1980.
Even though the number of fatalities due to fire outbreaks has gone down over the years, thanks to better equipment and quicker emergency management systems, the losses in monetary terms have risen by a huge margin. They have gone up by 12% from 2008 to 2017, with the figures for 2017 showing a loss of a massive $23 billion in one year alone.
With numbers such as these, it is safe to say to firefighters are going to remain high in demand for the foreseeable future. If you are interested in a firefighter career, the following guide would be of use to you. It provides information on firefighter career statistics, firefighter career outlook and how to become a firefighter in the US.
Firefighter Career Statistics for the US
The following table provides a quick glance at the firefighter career statistics in the US.
| 2018 Mean Salary | $53,240 per year |
| --- | --- |
| Job Outlook, 2018-28 | 5% |
| Number of Jobs, 2018 | 332,400 |
| Employment Change, 2018-28 | 17,600 |
The annual mean salary for firefighters in 2017 was $51,930, and $50,520 in 2016. It can be deduced from this data that the salary for firefighters in the US has experienced a stable increase over the three years from 2016 to 2018.
Firefighter Career Outlook in the US
Job prospects for firefighters are expected to be good, despite the increasing number of volunteer firefighters that are now qualifying for firefighting jobs. Applicants who are in good physical shape and have some amount of postsecondary firefighting education are likely to have the best job prospects.
Firefighter career prospects will also vary according to the location and individual fire department policies. The following chart depicts the states with the highest employment level in this occupation.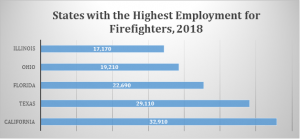 Source: US Bureau of Labor Statistics
It must be noted that California is also the top paying state for firefighters in the US, paying an annual mean wage of $81,580 in 2018. Second to California is New Jersey ($76,530), Washington ($73,850), New York ($73,710) and Nevada ($66,830).
Please note that the exact requirements, eligibility criteria and training contents may vary from department to department. And with nearly 30,000 departments currently operational in the country, it is important to spend some time on researching on the right one for you.
You May Also Like

Firefighting Gear List
How Long Does It Take to Become a Firefighter
How to Become a Fire Chief