Should I Become a Firefighter in Michigan?
As first respondents whenever a fire breaks out, firefighters have an important role to play. Becoming a firefighter is risky because combating raging fires is not easy. According to the US Bureau of Labor Statistics, 7,230 firefighters were working in the state of Michigan in 2019. If you want to join them, then read this article for details.
Featured Programs and Schools
| | |
| --- | --- |
| Education Required | At least a high school diploma or a GED. |
| Training | Fire Academy Training is needed. |
| Licenses/Certifications | EMT and CRT Certification might be required. |
| Key Skills/Qualities | Decision making, Leadership Qualities, Patience, Physical Stamina, etc. |
| Annual Mean Salary (2019) – National | $54,650 |
| Job Outlook (2019-2029) | 6% |
| Annual Mean Salary (2019) – Michigan | $46,010 |
Source: US Bureau of Labor Statistics
4 steps To Become A Firefighter in Michigan
According to the U.S. Fire Administration, out of the 1,000 fire incidents in Michigan in 2016, 4 deaths and approximately 13 injuries were reported. These numbers may not look staggering but if you compare them with the national statistics, they are alarming. The same source quotes that of 1,000 incidents of fire in the US in 2016; there were approximately 2 deaths and 9 injuries.
If you live in Michigan and want to pursue a career that is both rewarding and fulfilling, then consider becoming a firefighter. As a firefighter, you will not only be putting out and preventing fires but also saving lives.
If you are interested in knowing about how to become a firefighter in Michigan,you have to complete all the below-mentioned steps:
Step 1: Get the Required Education
To become a firefighter in the state of Michigan, you will need a high school diploma or a GED at least to apply for the position. It is recommended that you get post-secondary education because that will improve your chances of being selected.
Step 2: Start the Application Process
Once you meet the minimum educational requirements, you can start the application process. Make sure that you carry out proper research so that you know the complete requirements.
Step 3: Get Through the Hiring Process
If your application is shortlisted, you will have to clear the hiring process. You will need to take a written test, pass an oral interview, and clear background screening. On top of that, you will also have to pass a drug screening, a physical examination, and a psychological evaluation.
Step 4: Complete Training
The last step is completion of training at the fire academy. Every fire department in the country sends new recruits to a designated training academy, where candidates spend weeks learning all that there is to learn about firefighting.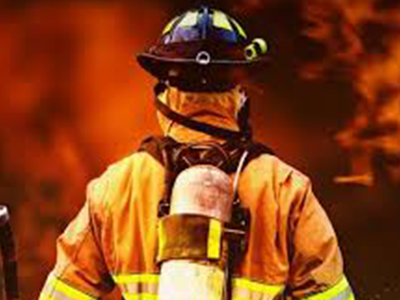 At least 18 years old at the time of filing of application
Have a high school diploma or GED
No felony convictions
Good communication skills
Capable of performing the duties of a firefighter
Have a valid driver's license
At least 20/30 corrected vision, or
20/100 uncorrected vision
Able to work in all environments
Once you meet these minimum requirements, you are good for applying. It is typical of your future employer to ask you to take a series of examinations once your application is processed and approved.
The Written Exam(s)
This exam is timed and will test your reading comprehension skills, including maps, tables, charts, street guides, gauges and graphics. It will also test your mathematical and vocabulary skills.
Since passing this test is mandatory to become a firefighter, therefore it is strongly advised that you prepare before taking this test. Either obtain civil service exams from your local library or enroll in a remedial class at your local community college or adult education center.
Agility Test
Once you pass the written exam, you will need to pass the physical exam. Since this too is mandatory, therefore be prepared in advance. Consider doing pushups, swimming or bicycle riding, running and hand grip exercises for 20-30 minutes a day for 4 to 6 weeks before taking the test. Overweight candidates should consider losing weight.
Training Academy
Once you have passed the agility test as well, you would be called for training. New recruits are taught hands-on skills to save lives, property and environment. They are also taught how to stay safe. Once you complete the training program, there may be another exam to take before graduation. Successful graduates are then awarded the following certificates:
Haz-Mat Operations
Haz-Mat Awareness
MFFTC/OFFT Fire Fighter I & II
Licensed State of Michigan Medical First Responder
Becoming a firefighter is not like getting a job; instead it is like starting a lifelong career. Therefore, it takes quite a while to get your application processed, passing the exams and tests and completing the firefighter's training. On the whole, it may take you as little as a few months to up to a few years to become a firefighter in Michigan.
How Much Do Firefighters Earn In Michigan?
According to the latest statistics (May 2017) available with the US Bureau of Labor Statistics (BLS), firefighters earned a mean annual wage of $44,870. This is in addition to the benefits that you may be entitled to, which are listed below:
Paid sick leave/vacation
Flexible work schedule
Pension plan
Extra pay for college education
Tuition reimbursement
Continuing career training and education
Career Prospects for Firefighters in Michigan
According to the BLS, as of May 2017, there were 6,980 firefighters in the state of Michigan. Firefighters' jobs are increasing at a steady rate of 3 percent all over the US, which means that while there may not be an abundance of such jobs, there would always be new vacancies for those who qualify. You should therefore focus on getting your application approved and getting into the training program to live your lifelong dream of becoming a firefighter.
Other States