4 Steps Guide to Become a Firefighter in Florida
Featured Programs and Schools

With over 21 million residents, Florida is the third largest state in the United States. According to 2016 statistics published on the U.S. Fire Administration's website, the State of Florida reported 2.1 deaths and 12.6 injuries out of all 1,000 fires reported in the state. These numbers are of a great concern to Floridians since the US wide average for deaths and injuries for 1,000 fires is 2.4 and 9.3 respectively. In the light of this, the role of firefighters in Florida assumes even more importance.
Please note that every fire department will have its own requirements for aspiring firefighters. Below are some general steps you will have to complete to become a firefighter in the state of Florida.
Step 1: Get a High School Diploma
Some states in the US might require candidates to have a college degree to become a firefighter but most states just require a high school diploma as the minimum educational requirement. An alternative GED certificate is acceptable as well.
Step 2: Get EMT Certification
In order to become a firefighter in the state of Florida, you will also have to get an EMT certification. The Emergency Medical Technician certificate equips firefighters to provide emergency medical care to rescued or injured people, since they are normally the first respondents every time a fire breaks out.
Step 3: Clear the Hiring Process
Once your job application is approved, you will be asked to clear a few mandatory steps of the hiring process. You will need to clear a thorough background check, physical as well as psychological examinations, and drug screening. You will also need a CPAT to make the cut.
Step 4: Complete Training
Once you have navigated through the hiring process successfully, you will be sent to a fire academy to complete fire academy training. This is a mandatory requirement.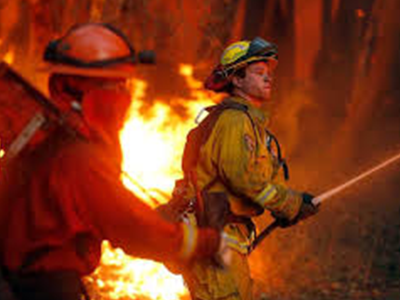 How Hard Is It Be a Firefighter in Florida?
Since the job of a firefighter is a tough one, it is not easy to become one. All aspiring candidates should be extremely physically fit for starters. Then, they have to go through a very strict hiring process and fire academy training where they are taught how to combat raging fires and minimize damage.
Requirements to Become a Firefighter in Florida
Be mindful of the fact that the set of requirements to become a firefighter in Florida often vary from city to city. Therefore treat the following list as a general guideline. Furthermore, the requirements to become a firefighter in Florida are sometime the same as those of EMT or fire medic.
Must be at least 18 years of age
High school graduate or its equivalent
Holding a valid driver's license
Clean criminal history with no misdemeanor and felony conviction
Meet and maintain departmental requirements of physical and mental health
A bona fide resident of the county where the application is being submitted
No use of illegal drugs and no abuse of prescription drugs one year prior to submission of the application
Possession of a current State of Florida Emergency Medical Technician Certification and a current State of Florida Firefighter Certification or Paramedic Certification (Fire Medics)
How to Apply
Once the prerequisites to filing an application to become a firefighter in Florida are fulfilled, follow these steps:
Visit your future employer's official website and submit an application online with valid Firefighter/EMT and Paramedic certifications attached
Complete CPAT and NTN Fire Team Testing at National Testing Network
Once your application is approved, it is likely that you will be called for further tests, including but not limited to:
Physical Ability Test/Fire Team Testing
It is a series of tasks representing what firefighters do on daily basis at work. You will be asked to undergo the same routine to gauge a realistic assessment of your suitability for the job. Once you clear this stage, you will be put on the department's eligibility list. When the hiring process starts, the department will review all the names on the eligibility list and contact them for participation in other stages of the hiring process.
Fire Academy
Once you have cleared all the stages, you will start your training at a designated fire academy. The duration of the program will vary but is likely to last from four to six months, if not more. The curriculum will be based on classroom-based learning as well as practical learning. Fire academies tend to have a burn tower where recruits apply in practice what they have learned in classroom.
During the course of your training, you are likely to learn about search and rescue, emergency vehicle driving, advanced airway training, CPR, tools and ropes, ladders, pump operator training and vehicle extrication, etc.
How Much Do Firefighters Earn in Florida
The State of Florida has 19,000 firefighters, the third biggest firefighting force in the US after California and Texas. The state also pays them handsomely. The following statistics are of May 2020 and taken from the US Bureau of Labor Statistics (BLS).
| State | Employment (2020) | Annual Mean Salary (2020) |
| --- | --- | --- |
| Florida | 19,000 | $52,720 |
Below is a list of the highest paying US states for firefighters in the US in 2020.
Job Prospects
O*NET OnLine predicts an 8% job growth in this sector from 2018 to 2028. This means 1,880 new jobs will be created in this field in these ten years. This is a healthy growth rate. Therefore, if you are thinking of becoming a firefighter in Florida, you are on the right track.
Other States