Firefighting is a profession that requires courage, quick thinking, and a willingness to put oneself in harm's way to protect others. It's a job that attracts individuals who are driven by a desire to serve their community and make a positive difference in the world. If you're looking for a career that challenges you both mentally and physically, and allows you to help others in their time of need, then firefighting might be the perfect fit for you.
To become a firefighter in Florida, there are certain prerequisites you must meet. These can include a high school diploma or GED, passing a physical agility test, and completing a certified firefighter training program. Additionally, candidates must possess a valid driver's license and have a clean criminal record.
What makes firefighting a great profession in Florida is the diversity of the state. Florida is home to a wide range of communities, from small towns to bustling cities, and firefighters are needed in every one of them. Furthermore, Florida's warm climate means that there is a higher risk of wildfires and other natural disasters, creating a high demand for trained firefighters who can respond to emergencies quickly and efficiently.
Firefighters Job Duties in Florida
The job duties of a firefighter in Florida, like in many other locations, encompass a broad range of activities, not just related to fighting fires. Here are some of the primary responsibilities and duties of a firefighter in Florida:
Fire Suppression: The most recognizable duty. Firefighters respond to fire alarms, extinguish fires, and rescue individuals from dangerous situations.
Emergency Medical Response: Many firefighters are also trained as EMTs or paramedics. They provide initial medical care at the scene of an incident and may assist in transporting patients to medical facilities.
Rescue Operations: Aside from fires, firefighters respond to various emergencies where people need to be rescued, such as vehicle accidents, water rescues, or situations where individuals are trapped.
Equipment Maintenance: Firefighters are responsible for maintaining their equipment and ensuring it's in working order. This includes cleaning and inspecting tools, apparatus, and personal protective equipment.
Training and Drills: Regular training is vital in this field. Firefighters constantly participate in drills and other training activities to keep their skills sharp.
Fire Prevention and Education: Firefighters might visit schools, community groups, and businesses to provide fire safety education. They teach about fire prevention, the importance of smoke alarms, and how to create an emergency evacuation plan.
Hazardous Materials (HazMat) Response: Some firefighters are trained to handle hazardous materials incidents, including chemical spills or gas leaks, ensuring they're contained and cleaned up safely.
Inspection and Code Enforcement: Firefighters often perform inspections of buildings to ensure they adhere to fire codes. They might also review evacuation plans and fire alarm systems.
Wildfire Response: In Florida, with its frequent risk of wildfires, many firefighters are trained in wildland firefighting techniques. They may work to create firebreaks, conduct controlled burns, or directly combat wildfires.
Post-Incident Cleanup: After a fire or other incident, firefighters assist in cleanup efforts, which may include salvaging valuable property, removing hazards, and ensuring the scene is safe.
Fitness and Physical Training: Maintaining physical fitness is crucial for the demanding nature of the job. Firefighters often engage in regular physical training activities as part of their routine.
Reporting and Paperwork: After incidents, firefighters must complete reports detailing the incident's nature, actions taken, resources used, and any injuries or damages incurred.
Specialized Roles: Within a fire department, there might be various specialized roles, such as dive teams for water rescues, technical rescue teams for situations like trench or structural collapses, and arson investigators who determine fire causes.
Community Engagement: Firefighters often participate in community events, parades, and other public relations activities to foster positive relationships with the community they serve.
Being a firefighter in Florida involves a lot more than just fighting fires. It's a multi-faceted profession that requires adaptability, continuous learning, and a deep commitment to public service.
4-Step Guide to Become a Firefighter in Florida
Featured Programs and Schools

With over 21 million residents, Florida is the third largest state in the United States. According to 2021 statistics published on the U.S. Fire Administration's website, the State of Florida reported 2.0 deaths and 8.7 injuries per 1,000 fires reported in the state. The US wide average for deaths and injuries for 1,000 fires is 2.3 and 7.2 respectively.
In the light of this, the role of firefighters in Florida assumes even more importance.
Please note that every fire department will have its own requirements for aspiring firefighters. Below are some general steps you will have to complete to become a firefighter in the state of Florida.
Step 1: Get a High School Diploma
Some states in the US might require candidates to have a college degree to become a firefighter but most states just require a high school diploma as the minimum educational requirement. An alternative GED certificate is acceptable as well.
Step 2: Get EMT Certification
In order to become a firefighter in the state of Florida, you will also have to get an EMT certification. The Emergency Medical Technician certificate equips firefighters to provide emergency medical care to rescued or injured people, since they are normally the first respondents every time a fire breaks out.
Step 3: Clear the Hiring Process
Once your job application is approved, you will be asked to clear a few mandatory steps of the hiring process. You will need to clear a thorough background check, physical as well as psychological examinations, and drug screening. You will also need a CPAT to make the cut.
Step 4: Complete Training
Once you have navigated through the hiring process successfully, you will be sent to a fire academy to complete fire academy training. This is a mandatory requirement.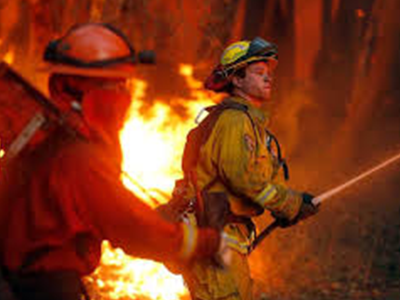 How Hard Is It to Become a Firefighter in Florida?
Becoming a firefighter in Florida, as in many places, is challenging both physically and mentally. If you're interested in this career path, here are some factors to consider:
Training and Education: Prospective firefighters in Florida must complete a fire academy program, which is offered by many institutions throughout the state. This program involves both classroom learning and physical training.
Certification: After completing a fire academy program, candidates must then pass the Florida State Firefighter Certification. This includes both a written exam and a practical skills test.
Physical Fitness: Firefighting is physically demanding. Applicants often need to pass rigorous physical fitness tests, which might include running, lifting heavy equipment, climbing ladders, and other tasks that simulate the demands of firefighting.
Medical Examination: Firefighter candidates will usually undergo a thorough medical examination to ensure they're fit for the rigors of the job. This can include vision and hearing tests, respiratory function tests, and cardiovascular evaluations.
Background Check: A thorough background check, including a criminal history review, is typically required. Fire departments look for individuals of good character.
Continuous Learning: Even after becoming a firefighter, ongoing training is crucial. This includes learning about new firefighting techniques, emergency medical procedures, and other relevant topics.
Mental Toughness: Firefighting can be emotionally taxing. Firefighters often witness traumatic scenes, and the job can be very stressful. Resilience and mental toughness are crucial.
Florida's Unique Challenges: Florida presents some unique challenges due to its climate and geography. The state is prone to wildfires, especially in periods of drought. The state's frequent lightning storms also present a higher risk of fires. Additionally, Florida is a hurricane-prone state, requiring firefighters to be prepared for a range of emergency scenarios related to storm damage, flooding, and more.
Career Progression: Like many professions, starting as a firefighter can lead to various career pathways within the fire service. This might include becoming an engineer (driving and operating the fire apparatus), a lieutenant or captain (leadership roles), or even specialized roles like arson investigator or fire inspector.
Compensation and Benefits: While the starting salary for a firefighter in Florida may not be exceptionally high, the benefits are typically good, including retirement packages, health insurance, and more. Over time, with experience and promotions, salary can increase significantly.
To sum up, becoming a firefighter in Florida requires dedication, training, physical and mental fitness, and a commitment to continuous learning. It's a challenging yet rewarding career for those who are passionate about helping others and serving their community.
Requirements to Become a Firefighter in Florida
Be mindful of the fact that the set of requirements to become a firefighter in Florida often vary from city to city. Therefore treat the following list as a general guideline. Furthermore, the requirements to become a firefighter in Florida are sometime the same as those of EMT or fire medic.
Must be at least 18 years of age
High school graduate or its equivalent
Holding a valid driver's license
Clean criminal history with no misdemeanor and felony conviction
Meet and maintain departmental requirements of physical and mental health
A bona fide resident of the county where the application is being submitted
No use of illegal drugs and no abuse of prescription drugs one year prior to submission of the application
Possession of a current State of Florida Emergency Medical Technician Certification and a current State of Florida Firefighter Certification or Paramedic Certification (Fire Medics)
Fire Academy
Once you have cleared all the stages, you will start your training at a designated fire academy. The duration of the program will vary but is likely to last from four to six months, if not more. The curriculum will be based on classroom-based learning as well as practical learning. Fire academies tend to have a burn tower where recruits apply in practice what they have learned in classroom.
During the course of your training, you are likely to learn about search and rescue, emergency vehicle driving, advanced airway training, CPR, tools and ropes, ladders, pump operator training and vehicle extrication, etc.
How Much Do Firefighters Earn in Florida
According to the US Bureau of Labor Statistics (2021), the annual mean wage for firefighters in Florida is $53,480. However, firefighters can ensure more stability and a better salary by pursuing higher education and certification, such as becoming a paramedic or a fire inspector. Additionally, many fire departments offer benefits such as health insurance, retirement plans, and paid time off. Some fire departments also offer perks such as gym memberships and tuition reimbursement programs.
Job Prospects
According to O*Net Online, the job outlook for firefighters in Florida is positive, with a projected 7% growth between 2020 and 2030. This growth is expected to result in 1,630 projected annual openings for the same period. Firefighters can progress in their careers by pursuing advanced education and certification, such as becoming a fire captain or a fire chief. They can also improve their skills and qualifications by participating in ongoing training programs and continuing education courses.
Firefighting Careers in Florida
Firefighting careers in Florida are diverse and multifaceted. The state's unique geography, climate, and environmental challenges require specialized skills in addition to the traditional roles associated with firefighting. If you're considering a firefighting career in Florida, here are some potential paths and specialties:
Municipal Firefighter
These are the firefighters that typically come to mind first. They work in urban and suburban settings, responding to fires in buildings, homes, and other structures.
Wildland Firefighter
Florida's large tracts of natural lands and frequent droughts mean that wildfires are a common challenge. Wildland firefighters are specially trained to combat these fires, often working for state or federal agencies like the Florida Forest Service or the U.S. Forest Service.
Fire Inspector
These professionals inspect buildings to ensure they comply with fire codes. They also educate the public about fire safety and may investigate the origins of fires.
Fire Investigator
These are specialized professionals trained to determine the cause of fires, particularly when arson or foul play is suspected.
Fire Service Instructor
These are experienced firefighters who train new recruits or provide ongoing training to current firefighters.
Fire Engineer
Also known as apparatus operators or driver/operators, they are responsible for operating the fire department vehicles, including engines and trucks.
Paramedic/Firefighter
Many firefighters in Florida are also trained as paramedics or emergency medical technicians (EMTs) and provide medical assistance at emergency scenes.
Airport Firefighter
These firefighters specialize in responding to airplane emergencies, including fires. Florida's numerous major airports require specialized teams ready to handle aviation-related incidents.
HazMat Firefighter
These firefighters are specially trained to deal with hazardous materials incidents, such as chemical spills or biohazard situations.
Technical Rescue Specialist
This includes professionals trained for unique rescue scenarios such as swift-water rescues, high-angle rescues, confined space rescues, and more.
Fire Department Communications
This role involves working in dispatch, receiving emergency calls, and coordinating the response of firefighting units.
Administrative and Leadership Roles
As firefighters gain experience, they can move into leadership roles like lieutenant, captain, battalion chief, and even fire chief. These roles involve more administrative duties and overseeing the management and direction of fire departments.
Dive Rescue Teams
Given Florida's extensive coastline and numerous waterways, many departments have dive rescue teams trained to handle water-related emergencies.
Fire Department Public Information Officer
This role is responsible for managing communication between the fire department and the media, as well as the general public.
If you're considering a career in firefighting in Florida, it's essential to understand the different pathways and specializations available. Research and talk to professionals in the field to determine which path might be the best fit for you. And remember, continuous training and education are vital in this ever-evolving profession.
Firefighters Colleges in Florida
Florida is home to several firefighter colleges, academies, and training institutions that provide the necessary education and skills for aspiring firefighters. These institutions offer a combination of classroom instruction and hands-on training to prepare students for the challenges of firefighting and related emergency services.
Here are some firefighter colleges and academies in Florida:
Central Florida Fire Academy (CFFA)
Located in Orlando, this academy is one of the more renowned firefighter training institutions in the state. It offers a range of programs, including Firefighter I & II, EMT, and paramedic training.
Florida State Fire College
Located in Ocala, this institution is operated by the Florida Division of State Fire Marshal. It provides a variety of courses, from basic firefighting to specialized training.
Miami Dade College – School of Justice
In addition to police and corrections training, this school offers a Fire Science program, which includes Firefighter I & II certifications, as well as an associate degree in fire science technology.
Broward Fire Academy
Located in Davie, Broward Fire Academy offers both basic and advanced fire, rescue, and EMS training.
Hillsborough Community College – Fire Academy
Located in Tampa, this academy offers training for Firefighter I & II, as well as an associate degree program in fire science technology.
Palm Beach State College
They offer a Firefighter I & II program, as well as other related training opportunities and an associate degree in fire science.
Florida SouthWestern State College
Located in Fort Myers, this college offers a variety of fire science and emergency services programs.
First Coast Technical College
Located in St. Augustine, this college offers Firefighter I & II programs along with other emergency services training.
Pensacola State College
This institution provides fire science programs, including Firefighter I & II certifications and an associate degree in fire science technology.
Eastern Florida State College
Located in Cocoa, they offer Firefighter I & II certifications, as well as an associate degree in fire science technology.
St. Petersburg College Fire Training Center
They offer both basic and advanced firefighter training courses, along with EMT and paramedic programs.
When considering a firefighting college or academy in Florida, it's crucial to research each institution, visit their campuses, speak with instructors, and even current students. You'll want to ensure the program meets your needs, both in terms of the education provided and the opportunities for hands-on training. Also, ensure the program you're considering is accredited and meets the requirements set by the Florida Division of State Fire Marshal or other relevant certifying bodies.
Choosing the Right Firefighting Degree and Concentrations in Florida
Choosing the right firefighting degree and concentration is essential to aligning your education with your career goals. In Florida, as with many places, there are various educational pathways for those aspiring to enter the fire service or advance in their firefighting careers. Here's a guide to help you make the right choice:
Understand Your Career Goals
Firefighting: If you're primarily interested in becoming a firefighter, you might not need a full degree. Instead, completing a Firefighter I & II program might suffice. This will teach you the basics of firefighting, and once completed, you can sit for the state certification exam.
Fire Service Leadership: If you aspire to move up the ranks (e.g., lieutenant, captain, battalion chief), consider an associate's or bachelor's degree in fire science or fire administration. These programs often cover leadership, fire prevention, fire investigation, and public safety education.
Specialized Roles: If you're interested in a specialized role, such as a fire inspector, investigator, or arson investigator, specific concentrations or coursework in fire prevention, investigation, and code enforcement might be beneficial.
Degree Levels and Concentrations
Certificate Programs: These are short-term programs focused on the basics of firefighting, often culminating in Firefighter I & II certifications.
Associate Degree in Fire Science: This 2-year program goes beyond the basics, touching on topics like fire behavior, fire prevention, and sometimes emergency medical services. Concentrations might include fire prevention, fire investigation, or emergency services.
Bachelor's Degree in Fire Science or Fire Administration: A 4-year program providing a comprehensive education on fire service, leadership, management, and specific areas of concentration. This degree can prepare you for leadership roles or specialized positions.
Master's Degree in Fire or Public Administration: For those seeking top leadership positions or roles in academia, a master's program offers advanced study in management, policy, and strategy related to fire and emergency services.
Accreditation and State Approval
Ensure the program you're considering is accredited by a recognized agency. In the fire service realm, the International Fire Service Accreditation Congress (IFSAC) and the Pro Board Fire Service Professional Qualifications System (Pro Board) are notable accreditation entities. Additionally, check that the program meets the standards set by the Florida Bureau of Fire Standards and Training.
Hands-On Training Opportunities
Practical experience is paramount in firefighting. Look for programs that offer robust hands-on training opportunities, including live burn exercises, rescue scenarios, and other real-world simulations.
Additional Certifications
Many programs also prepare students for additional certifications, such as EMT or paramedic, hazardous materials handling, technical rescue, etc. If you're interested in these specializations, ensure your program provides or facilitates the necessary training.
Location and Facilities
Consider the location of the institution and the quality of its training facilities. State-of-the-art training grounds, simulation labs, and modern equipment can enhance your educational experience.
Reviews and Recommendations
Speak with current students, alumni, and professionals in the field. Their insights can provide a clearer picture of the program's quality and relevance to your career goals.
By considering the points above and aligning them with your personal and professional goals, you can choose the right firefighting degree and concentration that will serve as a strong foundation for your career in Florida.
Fire Departments in Florida
Florida is home to numerous fire departments that serve its vast and diverse communities. These departments range from large metropolitan units to smaller rural squads, each tailored to the needs of its respective community. Here's a list of some of the major fire departments in Florida:
Miami-Dade Fire Rescue (MDFR)
Serving Miami-Dade County, this is one of the largest fire-rescue departments in the state. They provide fire suppression, rescue, emergency medical services, and more.
City of Miami Fire-Rescue Department
Serving the city of Miami, this department is distinct from Miami-Dade and has a rich history dating back to the early 20th century.
Orlando Fire Department (OFD)
Serving the city of Orlando, they offer a range of services, from fire suppression to hazmat response.
Tampa Fire Rescue (TFR)
Serving the city of Tampa, TFR provides fire suppression, rescue, and emergency medical services.
Jacksonville Fire and Rescue Department (JFRD)
Serving the largest city by land area in the contiguous United States, JFRD is a significant department with a wide array of responsibilities.
Palm Beach County Fire Rescue (PBCFR)
Serving Palm Beach County, they offer fire suppression, rescue, and emergency medical services.
Broward Sheriff's Office Department of Fire Rescue
Serving Broward County, this department is under the umbrella of the sheriff's office and provides comprehensive fire, rescue, and emergency medical services.
St. Petersburg Fire & Rescue
Serving the city of St. Petersburg, this department provides a full range of services, including fire suppression, rescue, and EMS.
Fort Lauderdale Fire-Rescue
Serving the city of Fort Lauderdale, they offer fire suppression, rescue, EMS, and marine firefighting.
Tallahassee Fire Department
Serving the state's capital, Tallahassee, this department provides fire suppression, rescue, and more.
Naples Fire-Rescue Department
Serving the city of Naples, they offer services including fire suppression, EMS, and marine rescue.
Hillsborough County Fire Rescue
Serving Hillsborough County, which includes the outskirts of Tampa, this department offers a broad range of fire and emergency services.

Orange County Fire Rescue Department
Serving Orange County, which encompasses Orlando and its surroundings, this is a large department that provides a wide range of services.
Seminole Tribe Fire Rescue
This department specifically serves the Seminole Tribe's reservations and communities in Florida.
Florida Forest Service
This isn't a traditional fire department but plays a crucial role in combating and preventing wildfires throughout the state.
In addition to these, there are countless other municipal and county fire departments, volunteer fire departments, and special districts throughout Florida. Each one plays a critical role in ensuring the safety and well-being of Florida's residents and visitors. If you're considering a career in firefighting in Florida or seeking services, it's essential to familiarize yourself with the fire departments in your specific area or region.
Other States