Should I Become a Firefighter in Massachusetts?
Thinking of starting a career as a firefighter? A noble profession, firefighters are of great importance to the community as they are the first responders in an emergency situation. One of the main reasons that drive people to pursue firefighting as a career is saving lives. It is not easy to become a firefighter as the job requires a lot of dedication, courage, and hard work. Aspiring firefighters have to go through a rigorous training program at the academy to qualify for firefighter candidate position.
To become a firefighter in Massachusetts it is important to pass the civil service test and be eligible to begin training at the Department of Fire Services Massachusetts Firefighting Academy. According to the 2021 US Bureau of Labor Statistics (BLS), Massachusetts is the third highest state in the US with regards to concentration of jobs and location quotients (LQ). Massachusetts LQ is stated to be 1.58 with the estimated employment level in 2021 being 12,060.
Featured Programs and Schools
| | |
| --- | --- |
| Educational Requirements | Postsecondary nondegree award |
| Licensure/Certification | Certification and License is mandatory |
| Experience/Training | Firefighter Training Academy |
| Key Skills | Quick Response, Teamwork, Patience, Sensitivity, Courage, Physical Fitness, Flexibility, Work Under Pressure, Mechanical Aptitude, Good Communication, First Aid |
| Annual Mean Salary – US (2021) | $ 55,290 per year |
| Annual Mean Salary – Massachusetts (2021) | $ 65,650 per year |
| Job Outlook – US (2021 – 2031) | 4% |
| Job Outlook – Massachusetts (2018 – 2028) | 4% |
Source: U.S. Bureau of Labor Statistics (2021) and O*NET OnLine
Steps to Become a Firefighter in Massachusetts
Step 1: Fill out the application form
The first step is to fill out the application form to appear in the Massachusetts Firefighter Civil Service Exam. This form is available on the State website. The fee for the written examination is $200.
Step 2: Receive a notification
If your application gets shortlisted, you will receive a notice to appear for the exam. This notice is sent via email 7-10 days before the test date. The notice will update you regarding details of the written exam, such as the location of the test, time slot, etc. You should stay vigilant and keep checking your spam or junk mail folder as well.
Step 3: Appear for the written exam
The test is divided into three parts; Written Ability Test (WAT), Work Style Questionnaire (WSQ) and Life Experience Survey (LES). The first section, the Written Ability Test, will assess your mental and cognitive abilities such as information ordering, comprehension skills, inductive reasoning, deductive reasoning, ability to identify and solve problems, processing new information, etc. This section will consist of 48 multiple choice questions. The second section, the Work Styles Questionnaire will examine your attitude, values and motivation. In this section, you will be given a number of short statements and you will be required to write down whether you agree or disagree with those statements. The third section, Life Experience Survey (LES) will ask you questions about your professional experience and personal history. This section consists of multiple choice questions. The time limit of this exam is 3 hours and 15 minutes.
Once you have cleared the written examination, you will have to appear for the physical exam.
Step 4: Appear for the Physical Ability Test (PAT)
The physical ability test is taken at the Hudson Armory in Massachusetts. This test is conducted to assess whether you are able to carry out the physical tasks that are required by the job. Your flexibility, muscular endurance, muscle strength and cardiovascular fitness will be assessed. The test will simulate the conditions and events faced by firefighters. You will be expected to perform a number of physical activities, some of these are explained below.
Stair climb: In this simulation exercise, you will be asked to climb a rotating stair case at a specific pace for a specific time period. You will be asked to remain on the rotating stair case for 200 seconds.
Hose advance: In this exercise, you will be required to operate a fire hose. You will be asked to pull the heavy hose through obstacles. The total time limit for this task will be 20 minutes.
Forcible entry: In this exercise, you will be required to use a heavy sledge hammer (that weighs 12 lbs.) to hit a rubber pad attached on top of a moveable post. This exercise simulates the forcible entry event in which firefighters are required to exert force and break down a door to enter a burning building. The total time for this task will be 13.91 seconds.
Search exercise: This exercise simulates the event where firefighters are required to search a smoke filled building. You will be asked to crawl through a 65 feet long tunnel that is filled with darkness and obstacles. The total time limit for this task will be 39 seconds.
Rescue through a doorway: This exercise is conducted to simulate the event where firefighters have to carry an unconscious individual out of a burning building. In this exercise, you will be asked to drag a 50 feet dummy (which weighs 125 pounds) along a zigzag course. The total time for this task is 36 seconds.
The results of the physical test will be emailed to you within 24 hours of taking the test. You should customize your email settings to permit emails from 'mass.gov' so those emails are not sent to the junk folder.
You will also have an option of appearing for a PAT preview. This is a practice test that is not scored or timed. This test will allow you to become familiar with the actual physical test. Currently, these practice tests are free of charge.
Step 5: Placement at the Massachusetts fire department
Based upon your written and physical test scores, you will be offered a position at the State fire department. Once you have been hired as a firefighter, you would take a 12 week training course at the Massachusetts Firefighting Academy. This training will cover topics on hazardous materials handling, survival skills, emergency vehicle operations and fire code violations.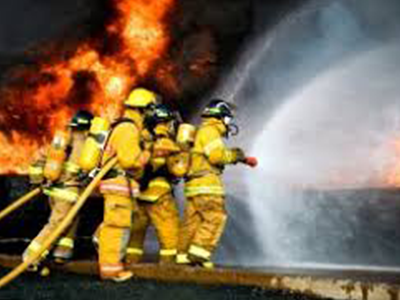 Education Requirement/Career Goals

Certificate

Associate's Degree

Bachelor's Degree

Master's Degree

Online Program

A professional firefighter with the desire to get ahead in the career but looking for flexibility to manage both job and education.

Best Suited

Looking to pursue a career in firefighting and desire to gain fundamental knowledge about fire causes and prevention methods. Learn about emergency response and management.

Best Suited

An aspiring firefighter with an ambitious career plan to gain interdisciplinary education to advance in the field. To have competitive advantage at the time of hiring and opportunity to make it to the supervisory level.

Best Suited

Having deep passion for the field of firefighting and desire to explore different avenues related to the job. Looking for valuable career advantages with skills to pursue promotion and leadership roles like fire chief and fire commissioner.

 

Best Suited

Interested in the field of firefighting but looking for a low-cost, fast-track way to enter the field.

Best Suited
Minimum Requirements To Become A Firefighter In Massachusetts
You must be at least 19 years old in order to take the Massachusetts Firefighter Civil Service Exam
You should have a GED or a high school diploma
You must possess a valid driver's license
You must be in a good physical condition
Salary of firefighters
As per the US Bureau of Labor Statistics of 2021, the annual mean salary of firefighters in Massachusetts was recorded to be $ 65,650. This is more than the national average which is $ 55,290 per year. Below is a list of the highest paying US states for firefighters.
| | |
| --- | --- |
| State | Annual Mean Wage |
| New Jersey | $ 84,930 |
| California | $ 80,990 |
| Washington | $ 76,280 |
| New York | $ 72,670 |
| Colorado | $ 68,300 |
Source: U.S. Bureau of Labor Statistics (2021)
Other States