Ohio,OH: How to Become a Firefighter
Firefighting is a lot more than just putting out fires and with the right skills a candidate can advance to other areas as well like fire management, arson investigation, and medical care. Candidates who meet the physical requirements, have top scores on mechanical aptitude and physical endurance test, and obtain paramedic training are likely to be in most demand. According to the US Bureau of Labor Statistics (BLS), firefighters in Ohio earned the annual mean wage of $ 52,530 in 2021. O*NET Online has projected 1% employment growth for firefighters in Ohio between 2018 – 2028.
Featured Programs and Schools

If you would like to join the State of Ohio's 18,000 plus firefighting force then you have to complete the following steps:
Step 1: Complete High School Education
To begin your journey as a firefighter in Ohio, you will need to meet the minimum educational requirements, which is a high school diploma or a GED. Local fire departments might have their own educational requirements so, make sure you do proper research before applying at a fire department.
Step 2: Get Through the Hiring Process
In order to become a firefighter in Ohio, you will have to get through the hiring process. Please note that the steps involved will be quite tough so, you should be mentally prepared. You will be asked to clear a written exam, an oral interview, a thorough background check, drug screening, psychological evaluation, and physical evaluation.
Step 3: Get CPR/BLS Certification
If you want to become a firefighter in Ohio, you will need to obtain a CPR/BLS certification. On top of that, it is advisable that you get an EMT certification as well.
Step 4: Get Firefighter I/II Certification
It is mandatory for firefighters in Ohio to have Firefighter I/II certification as well. This certification can be obtained from the fire academy, and all candidates that pass through the hiring process have to complete training at a fire academy.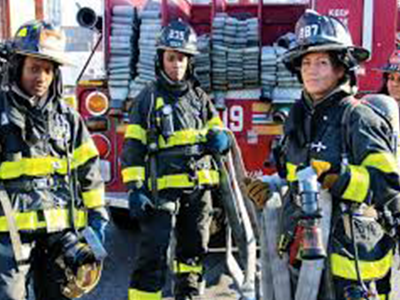 Age Limit To Become A Firefighter In Ohio
In order to work as a firefighter in Ohio, you have to meet certain requirements, one of which is the minimum age limit. You have to be 18 years or higher to work as a firefighter in the state of Ohio. However, the requirements might vary in some cases according to various fire departments requirements.
Requirements to Become a Firefighter in Ohio
Before you start filling out the application, make sure you meet the following minimum qualifications. These may differ from city to city and county to county, so check with your prospective employer.
Candidates must be at least 18 years of age
Candidates must be US citizens
Candidates must hold a high school diploma or GED
Candidates must hold a valid driver's license
If you fulfill the above mentioned qualifications then you can move on to step 2, which is typically passing a written exam and oral assessment.
Physical Test
Once you pass both the written and oral assessment, you will be asked to take a physical test. This test will be timed and you are likely to be asked to perform those physical activities that a firefighter performs on an average day, such as carrying a ladder and running, lifting heavy equipment, etc. This test, too, is graded on pass/fail basis.
Background Investigation
Once you pass the physical test, you will be asked to fill in a personal history questionnaire (PHQ), get fingerprinted and take the polygraph test. A candidate is typically asked to take the polygraph test after their provided information on PHQ is thoroughly checked and verified.
Oral Interview and Conditional Offer of Employment
The next step in the hiring process is to be interviewed by a board consisting of fire department representatives. Based on how you perform during the interview, the board will make its recommendations to the Director of Public Safety. It is at the discretion of the Director of Public Safety to make a conditional offer of employment to a candidate at this stage.
Medical and Psychological Exams
Once a candidate accepts the conditional offer of employment, they will be asked to undergo thorough medical and psychological assessment, wherein an extensive vision, cardiovascular and stress tests and psychological screening will be conducted. This stage may also be graded on pass/fail basis. A candidate's vision must be correctable to 20/30 binocular and no more than 20/100 uncorrected in each eye. A candidate must also be free of dependence on alcohol, narcotics or other controlled substances.
Unconditional Offer of Employment and Fire Academy
Once all the previous steps have been successfully passed by a candidate, they will be offered an unconditional offer of employment by the Director of Public Safety. Upon acceptance, they will be asked to undergo training at a fire academy. The duration will vary, but generally training lasts from 4 to 6 months. The training is paid, and upon graduation you begin your one-year probationary period. Depending on the academy's curriculum, recruits may also need to get the Emergency Medical Technician-Paramedic certificate.
Salary & Employment Numbers in Ohio
With 19,350 firefighters as of May 2021, according to the US Bureau of Labor Statistics figures, Ohio is the fourth biggest firefighter employing state in the country. In 2021, firefighters in Ohio were earning an annual mean salary of $ 52,530. This figure is close to the national annual mean wage i.e $ 55,290. Besides good salary, firefighters also get benefits like
Paid sick leaves
Paid holidays
Life insurance
Health insurance
College tuition reimbursement
Retirement plan
Below are the top paying states for firefighters:
| | |
| --- | --- |
| State | Annual Mean Wage  |
| New Jersey | $ 84,930 |
| California | $ 80,990 |
| Washington | $ 76,280 |
| New York | $ 72,670 |
| Colorado | $ 68,300 |
Source: U.S. Bureau of Labor Statistics (2021)
Other States