How to Become a Firefighter in Ohio?
Deaths and damages related to fires are a major concern in Ohio. According to the U.S. Fire Administration (USFA), out of 1,000 fire incidents in the state in 2016, a total of 3.3 deaths and 15.4 injuries were reported, whereas the national statistics for the two indicators were 2.4 and 9.3 respectively. This is alarming for state residents where their life and limb are more at stake due to fires than people living in other states. In the light of this, the role of a firefighter comes in the spotlight, further accentuating the importance of this profession.
If you would like to join the State of Ohio's 18,000 plus firefighting force then continue reading.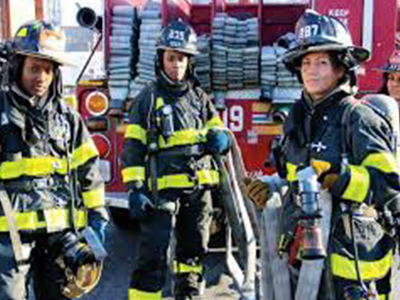 Requirements to Become a Firefighter in Ohio
Before you start filling out the application, make sure you meet the following minimum qualifications. These may differ from city to city and county to county, so check with your prospective employer.
Candidates must be at least 18 years of age
Candidates must be US citizens
Candidates must hold a high school diploma or GED
Candidates must hold a valid driver's license
If you fulfill the above mentioned qualifications then you can move on to step 2, which is typically passing a written exam and oral assessment.
Physical Test
Once you pass both the written and oral assessment, you will be asked to take a physical test. This test will be timed and you are likely to be asked to perform those physical activities that a firefighter performs on an average day, such as carrying a ladder and running, lifting heavy equipment, etc. This test, too, is graded on pass/fail basis.
Background Investigation
Once you pass the physical test, you will be asked to fill in a personal history questionnaire (PHQ), get fingerprinted and take the polygraph test. A candidate is typically asked to take the polygraph test after their provided information on PHQ is thoroughly checked and verified.
Oral Interview and Conditional Offer of Employment
The next step in the hiring process is to be interviewed by a board consisting of fire department representatives. Based on how you perform during the interview, the board will make its recommendations to the Director of Public Safety. It is at the discretion of the Director of Public Safety to make a conditional offer of employment to a candidate at this stage.
Medical and Psychological Exams
Once a candidate accepts the conditional offer of employment, they will be asked to undergo thorough medical and psychological assessment, wherein an extensive vision, cardiovascular and stress tests and psychological screening will be conducted. This stage may also be graded on pass/fail basis. A candidate's vision must be correctable to 20/30 binocular and no more than 20/100 uncorrected in each eye. A candidate must also be free of dependence on alcohol, narcotics or other controlled substances.
Unconditional Offer of Employment and Fire Academy
Once all the previous steps have been successfully passed by a candidate, they will be offered an unconditional offer of employment by the Director of Public Safety. Upon acceptance, they will be asked to undergo training at a fire academy. The duration will vary, but generally training lasts from 4 to 6 months. The training is paid, and upon graduation you begin your one-year probationary period. Depending on the academy's curriculum, recruits may also need to get the Emergency Medical Technician-Paramedic certificate.
Salary & Employment Numbers in Ohio
With 18,670 firefighters as of May 2017 (the US Bureau of Labor Statistics figures), Ohio is the fourth biggest firefighter employing state in the union. The same source quotes firefighters annual mean wage as $46,710 in May 2017. This is less than what firefighters make nationally – $49,080. However due to ample job opportunities in the state, it remains one of the most sought after careers in Ohio.
In addition to salary, firefighters also get benefits, including:
Paid sick leaves
Paid holidays
Life insurance
Health insurance
College tuition reimbursement
Retirement plan
So, if you are thinking of becoming a firefighter in Ohio, you're on the right track. It may be challenging to enter this profession but firefighting remains one of the most fulfilling and rewarding careers today.
Other States