Guide to Become a Firefighter in Indiana
Firefighting is a profession that requires bravery, physical strength, and quick thinking. It involves risking one's life to save others and protect property from fires and other disasters. Becoming a firefighter is a dream for many and Indiana offers a range of training programs to help aspiring firefighters achieve their goals.
Featured Programs and Schools
Job Duties of a Firefighter in Indiana
The job duties of a firefighter can vary somewhat based on the specific location, municipality, or department policies. However, the core responsibilities of firefighters are fairly consistent across different locations, including Indiana. Below are some common job duties of a firefighter:
Responding to Emergency Calls: This is the most well-known duty. When a fire breaks out, firefighters are dispatched to the scene to combat the fire and rescue any individuals who may be trapped.
Medical Assistance: Many firefighters are trained as emergency medical technicians (EMTs) and may be dispatched to medical emergencies to provide pre-hospital care.
Fire Prevention: Firefighters often participate in community outreach programs to educate the public about fire safety and prevention. This can include checking and installing smoke detectors, conducting safety demonstrations, and visiting schools.
Equipment Maintenance: Ensuring all firefighting equipment is in working order is critical. This includes inspecting and maintaining trucks, hoses, and other essential gear.
Training: Regular training is crucial to ensure that firefighters are prepared for all potential scenarios. This can include practice drills, ongoing education courses, and physical fitness training.
Inspections: Firefighters may conduct inspections of buildings to ensure that they are up to code and don't present fire hazards. They might also ensure that fire hydrants are operational.
Cleaning and Upkeep of Fire Station: Firefighters spend a significant amount of time at the fire station, so they're responsible for its upkeep, which includes cleaning, cooking, and maintaining the facility.
Report Writing: After responding to an incident, firefighters often need to write detailed reports about what happened, the response, any injuries, and damage.
Specialized Duties: Depending on the size and resources of the fire department, firefighters might be trained in specialized areas such as hazardous materials response, technical rescue, or water rescue.
Stay Updated: Firefighters need to stay updated on local building codes, new firefighting techniques, and advancements in firefighting technology.
Teamwork: Firefighting is inherently a team effort. Working well with colleagues, understanding the chain of command, and effective communication are all crucial.
Maintain Physical Fitness: Due to the physical demands of the job, firefighters must regularly exercise and maintain a certain level of physical fitness.
It's important to note that in different municipalities or counties within Indiana, there might be slight variations in the responsibilities based on local policies, the size of the department, and specific community needs. If you are seeking detailed information about a specific fire department in Indiana, it would be a good idea to contact that department directly or check their official website.
Steps to Become a Firefighter in Indiana
In order to prevent the occurrences of fire, including arson and protect its residents, the state of Indiana employs a large firefighting force comprising of more than 7,000 firefighters. To join the ranks of firefighters in Indiana, you will have to complete the steps mentioned below:
Step 1: Meet the Educational Requirements
The minimum educational requirements to become a firefighter in the state of Indiana is a high school diploma or GED. Having said that, you will only be hired with a high school diploma if you are committed to getting a college degree later on.
Step 2: Get an EMT Certification
You will also have to get EMT certification before you apply for the position of a firefighter in Indiana. On top of that, you will also need a Firefighter I/II certification.
Step 3: Get the CPAT
To become a firefighter in Indiana, you will also need to get CPAT (Candidate Physical Ability Test) certificate.
Step 4: Clear the Hiring Requirements
If your job application is selected, you will be asked to come in and go through a strict hiring process. While every fire department has its own hiring criteria, there are certain general steps you will have to complete. For example, you will have to sit through a written exam and an interview. You will also have to clear a background check, mental and physical examinations, drug screening, etc.
Step 5: Graduate from a Fire Academy
The last step of the process will be about graduating from a fire academy where you will get training about putting out fires, the safety protocols, and the use of fire equipment, etc.
If you want to join their ranks then continue reading.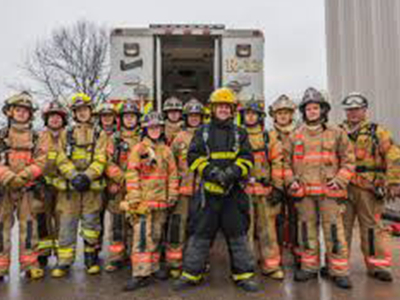 Factors to Consider to Become a Firefighter in Indiana
To become a firefighter in Indiana, aspiring candidates should consider the following factors:
Physical fitness and mental preparedness
Ability to work under pressure
Willingness to take risks and work in unpredictable environments
Completion of required training programs and certification exams
Possession of a valid driver's license and clean driving record
Ability to pass a criminal background check and drug test
Skills Required to Become a Firefighter in Indiana
To become a firefighter, candidates must possess the following skills:
Physical fitness: Carrying heavy equipment and working in dangerous and unpredictable environments requires a high level of physical fitness.
Communication skills: Effective communication is crucial in emergency situations to coordinate with fellow firefighters and other emergency responders.
Problem-solving ability: Quick and effective decision-making during a crisis is essential to protect lives and property.
Teamwork: Cooperation and collaboration with other firefighters are necessary to achieve firefighting goals.
Attention to detail: Careful attention to detail ensures that all equipment is in good working order and that all safety protocols are followed.
Requirements to Become a Firefighter in Indiana
The following are some of the basic requirements, which if met, may qualify you to proceed to the next level in the hiring process. Candidates:
Must be at least 21 years of age at the time of applying but not more than 36 years of age by date of appointment
Must be US citizens or legally allowed to work in the US
Must hold a high school diploma or GED
Must have a clean criminal record with no felony convictions
Must possess a valid driver's license
If you fulfill the above mentioned basic requirements then the hiring process proceeds further in the following order:
Written Test
A timed test (3.5 hours), which assesses your problem solving, memorization, reading comprehension and basic math skills.
Interview
A business interview conducted by a board of three people. This oral interview lasts approximately 20 minutes.
Candidates Physical Ability Test (CPAT)
This is a vigorous, timed physical test. The date, time and venue for the test will be notified to you in advance. Once you are at the site, you'll have the option of participating in two open practice sessions and two one-on-one sessions before you are asked to take the actual test. You don't have to participate in these, but it is highly recommended that you do for the sake of passing this test. If you are in a good physical shape than your chances of passing this test are high.
Background Investigation
Once you have passed CPAT, you will be fingerprinted and go through a thorough background investigation. Your criminal and driving history will be checked. Not all cities in Indiana check an applicant's credit history. Those with a felony conviction are automatically excluded from the hiring process. References that you may have provided may also be contacted. This step alone may take weeks to process.
Aerial Climb
If your fingerprints and background check turn up clean, you will be asked to do aerial climb. This event is timed. If you make the climb up and down in the allotted time, you'll proceed to the next step.
Conditional Offer of Employment
Upon successful completion of all the previous steps, you may be given a conditional offer of employment. However, be mindful of the fact that this offer doesn't come with schedule or time of your fire training. For that, your employer will notify you by mail. So keep a look out for the dates for joining a fire academy.
Medical and Psychological Exam
The psychological exam is the MMPI and takes approximately two hours to complete. Once the results are in, the candidate sits with a licensed psychologist for an interview. The psychologist gives his/her recommendations on the candidate's suitability for the job. The medical exam on the other hand is conducted by a licensed physician in which a candidate's previous medical history is reviewed and current health is assessed based on blood and urine tests, hearing/vision, body fat and treadmill tests. Once the results are in, the physician makes his/her recommendations. If a candidate is recommended for employment at this stage by both the physician and the psychologist then he/she is given an unconditional offer of employment.
How Much Do Firefighters Earn in Indiana?
Firefighting is a noble profession, but it's also important to consider the financial aspect of the job. The annual mean wage for firefighters in Indiana is $55,420 according to the US Bureau of Labor Statistics (2022). However, it's important to note that several factors can affect a firefighter's salary range. These factors include the number of years of experience, education level, location, and type.
Career Outlook
According to O*Net Online data, the projected growth rate for firefighters in Indiana is 9% between 2020 and 2030. Firefighting can be a good career path for individuals interested in public service and helping others. Top-level roles in firefighting, such as Fire Chief or Fire Marshal, typically require many years of experience and additional training and education. Aspiring firefighters can work towards these roles by gaining experience, completing advanced training, and pursuing higher education in fields related to firefighting and emergency management.
Training
Indiana offers a variety of training programs for firefighters, including:
Indiana Firefighter Training System (IFTS): Provides basic and advanced firefighter training, as well as specialized training for hazardous materials, technical rescue, and other specialized areas.
Firefighter I and Firefighter II certification programs: Offered by the Indiana State Fire Marshal's Office to provide training in firefighting tactics, safety procedures, and equipment use.
Emergency Medical Technician (EMT) training: Provides medical training for firefighters who want to provide medical assistance at emergency scenes.
Picking the Right Degree to Become a Firefighter in Indiana
Becoming a firefighter often involves a combination of education, training, and experience. While a specific degree isn't always required to become a firefighter, having one can certainly enhance your chances of getting hired and advancing in your career.
In Indiana, as in many states, the requirements can vary by municipality or fire department. Here's a guide to help you choose the right degree if you're interested in becoming a firefighter in Indiana:
High School Diploma or GED
At a minimum, most fire departments require a high school diploma or equivalent.
Fire Science Degree
Many community colleges and universities offer associate or bachelor's degrees in fire science. Such programs cover topics like fire behavior, fire prevention, emergency medical procedures, and the basics of firefighting. Earning a degree in fire science can provide a strong foundation for a career in firefighting and can make you a more competitive candidate.
Emergency Medical Technician (EMT) or Paramedic Certification
Many fire departments require firefighters to be certified as EMTs or paramedics. Some even offer additional salary incentives for paramedic certification. You might consider pursuing a degree or certification program in emergency medical services.
Physical Fitness or Kinesiology
Given the physical demands of the job, having a background in physical fitness or kinesiology can be beneficial. This can also prepare you for the physical agility tests that are a standard part of the hiring process.
Public Administration or Management
If you aspire to move up the ranks and take on leadership roles within the fire department, such as a fire chief, having a degree in public administration or management can be beneficial.
Specialized Training Programs
Some universities and colleges might offer specialized training programs that combine fire science with EMT training, providing a comprehensive path to becoming a firefighter.
Other Relevant Degrees
Degrees in areas like criminal justice, environmental science, or engineering can also be relevant, especially if you have interests in specialized areas of firefighting or fire prevention.
Additional Tips
Volunteer Experience: Joining a volunteer fire department can provide invaluable experience and can often lead to opportunities for formal training.
Stay Updated: Firefighting techniques, equipment, and best practices evolve over time. It's crucial to stay updated, whether through formal education, workshops, or training programs.
Networking: Joining organizations like the Indiana Firefighters Association can provide networking opportunities and keep you informed about the latest trends and job openings in the field.
While a degree can certainly give you an advantage in the competitive process of becoming a firefighter, it's essential to remember that practical experience, physical fitness, and personal attributes like teamwork, dedication, and problem-solving are also highly valued by fire departments. Before deciding on a degree, consider reaching out to local fire departments in Indiana to understand their specific requirements and preferences.
Firefighting Careers in Indiana
If you're considering a firefighting career in Indiana, it's essential to be informed about the different roles, requirements, and paths you can take. Here's an overview of firefighting careers and related opportunities in the state:
Firefighter
This is the entry-level position most people think of. Firefighters respond to fires, medical emergencies, and other incidents where life and property are at risk.
Fire Engineer or Driver/Operator
This role involves driving the fire truck to the scene and operating the equipment, like the truck's pump.
Fire Lieutenant
Lieutenants are typically in charge of a single fire company and are responsible for directing their team during fire operations and taking charge at emergency scenes.
Fire Captain
A rank above lieutenant, captains manage multiple companies or a particular division within the department.
Battalion Chief
Battalion chiefs are responsible for managing and overseeing several fire stations or a specific department section.
Fire Chief
The top-ranking officer in a fire department, responsible for overall management and administrative duties.
Fire Investigator
These individuals investigate the origin and cause of fires, working closely with law enforcement when arson is suspected.
Fire Inspector
They ensure buildings and properties comply with fire codes, conducting regular inspections and offering recommendations.
Fire Instructor
Instructors teach new recruits and offer continued education for experienced firefighters.
EMT or Paramedic
Many firefighters are also EMTs or paramedics, providing vital first aid and medical care at emergency scenes.
Fire Prevention/Public Education Officer
This role involves educating the public about fire safety, giving presentations, and coordinating community outreach programs.
Airport Firefighter
These firefighters specialize in responding to aircraft emergencies and fires at airports.
Wildland Firefighter
Though Indiana is not as prone to large wildfires as some western states, there are still instances of brush and forest fires that require specialized training and equipment.
Firefighter Colleges in Indiana
Several colleges and institutions in Indiana offer fire science and related programs that are designed to prepare individuals for a career in firefighting and related fields. Below is a list of some institutions in Indiana that offer such programs:
Vincennes University
Located in Vincennes, this university offers both an Associate's degree and a Certificate program in Fire Science and Safety Technology. Their curriculum covers fire behavior, fire prevention, fire investigation, and more.
Ivy Tech Community College
With multiple campuses across the state, Ivy Tech offers programs in Fire Science and Public Safety. The college provides training in various areas of fire service, including prevention, suppression, and investigation.
Indiana University
IU Bloomington has a School of Public Health that offers courses relevant to emergency management, which can complement a career in firefighting.
University of Indianapolis
While not strictly fire science, the university does offer programs in emergency and disaster management, which can be valuable for those looking at administrative or leadership roles in fire departments.
Purdue University
While primarily known for its engineering programs, Purdue also offers courses and programs in areas related to emergency management and public health. Their focus on safety and emergency preparedness can be beneficial for aspiring firefighters.
Indiana Department of Homeland Security (IDHS) Training Division: While not a traditional college, the IDHS Training Division provides vital training and certification for firefighters throughout the state. Their offerings include Firefighter I & II certification courses, as well as specialized training.
If you're considering a college program to become a firefighter in Indiana, it's essential to visit the college's website or contact their admissions or program office for detailed information on courses, faculty, facilities, and affiliations with local fire departments. Some programs may also have partnerships with local fire departments to provide hands-on training or internship opportunities.
In addition to formal education, many fire departments offer recruit training academies for new hires. The combination of college education in fire science or a related field, along with department-specific training, can provide a strong foundation for a successful career in firefighting.
Fire Departments in Indiana
Indiana is home to numerous fire departments that serve its cities, towns, and rural areas. These departments range from large urban units with full-time paid staff to smaller volunteer departments. Here are some notable fire departments in Indiana:
Indianapolis Fire Department (IFD)
As the state's capital and largest city, Indianapolis has a significant fire department with multiple stations, specialized units, and a full roster of professional firefighters.
Fort Wayne Fire Department
Serving the city of Fort Wayne, this department offers both firefighting and emergency medical services.
Evansville Fire Department
This department serves the city of Evansville and its surrounding areas, providing fire suppression, prevention, and education services.
South Bend Fire Department
Located in the northern part of the state, South Bend's fire department is responsible for serving the city and nearby areas.
Carmel Fire Department
Serving the Carmel area, this department offers a range of services from fire suppression to community outreach and education.
Bloomington Fire Department
Located in the home of Indiana University, this department serves both the city and the university community.
Gary Fire Department
This department provides services to the city of Gary, which is located in the northwest part of the state, near the Illinois border.
Lafayette Fire Department
Serving the city of Lafayette and nearby areas, this department offers a range of fire and emergency services.
Fishers Fire Department
Located in the growing city of Fishers, this department has modernized equipment and offers various community services in addition to firefighting.

Muncie Fire Department
Serving the city of Muncie, this department provides both firefighting and emergency medical services.
Apart from these, there are many smaller departments, volunteer units, and township fire departments scattered throughout the state, serving rural and suburban areas.
If you are interested in a specific department or region, you may want to directly visit the department's website or contact them to get information about services, employment opportunities, or community programs.
Other States