The field of firefighting remains one of the most competitive in the US as more and more people are interested in taking up the profession. Candidates who are physically fit, have top scores on mechanical aptitude and physical endurance test, and paramedic training are likely to be in most demand.
According to the 2022 US Bureau of Labor Statistics (BLS), Washington is the third highest paying state in the country for firefighters, as they earned the annual mean wage $ 76,930. O*NET OnLine has projected 7% employment growth for firefighters in Washington between 2020 – 2030.
Featured Programs and Schools
Firefighters Job Duties in Washington
Firefighters have a crucial role in every community, and their job duties often span a range of responsibilities beyond just extinguishing fires. In the state of Washington, as in many other states, firefighters' roles are multifaceted. Here's a broad overview of firefighter job duties in Washington:
Emergency Response: This is the most recognizable duty. Firefighters respond to various emergencies including fires, car accidents, and other incidents where life or property is at risk.
Fire Suppression: They are trained to use various tools and techniques to suppress and extinguish fires, including residential, commercial, wildland, and other types of fires.
Medical Response: Many firefighters in Washington are also trained as emergency medical technicians (EMTs) or paramedics. They can provide initial medical care at the scene of an emergency.
Search and Rescue: Firefighters can be called upon to rescue individuals trapped in buildings, vehicles, or other hazardous situations.
Inspection and Fire Prevention: They regularly inspect buildings for fire hazards, ensuring that they comply with fire codes. They also educate the public on fire safety and prevention.
Hazardous Materials Handling: Firefighters are trained to respond to hazardous material (hazmat) incidents. They may work to contain, clean up, or mitigate the hazards associated with chemical spills or gas leaks.
Training and Continuous Learning: Firefighting techniques and tools are constantly evolving. Firefighters must participate in ongoing training to stay current with the latest developments.
Maintenance of Equipment and Tools: Firefighters are responsible for maintaining the equipment, vehicles, and tools they use. This includes checking fire trucks, cleaning and testing gear, and ensuring that everything is in working order.
Wildfire Duties: Given the nature of the Pacific Northwest, firefighters in Washington may also engage in wildland firefighting, where they combat forest fires and protect communities from wildfire threats.
Community Engagement: Firefighters often participate in community outreach programs, like giving tours of the fire station to school groups or participating in community fairs and events.
Administrative Duties: Depending on their rank and role within the fire department, they might be involved in administrative tasks like reporting, budgeting, or planning.
Physical Fitness: Firefighting is physically demanding. Regular workouts and fitness routines are typically required to ensure firefighters can perform their duties effectively.
Collaboration with Other Agencies: Firefighters often work alongside other agencies like the police department, emergency medical services, and even federal agencies, especially during large-scale emergencies or disasters.
This list provides a broad overview of the duties of firefighters in Washington. It's essential to note that specific responsibilities can vary based on the municipality, district, or the specific role a firefighter holds within their department.
If you're considering a career in firefighting in Washington or any other state, it would be beneficial to visit local fire departments, attend career fairs, or seek informational interviews to get a more detailed understanding of the role.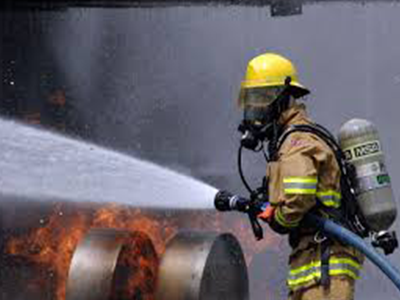 Requirements and Steps to Become a Firefighter in Washington
Becoming a firefighter is a challenging yet rewarding process that requires a combination of education, physical fitness, and on-the-job training. While specific requirements may vary somewhat between different departments and cities in Washington, the following provides a general outline of the steps and requirements to become a firefighter in the state of Washington:
Minimum Requirements
Age: You must be at least 18 years old.
Citizenship: U.S. citizenship or legal right to work in the U.S.
Education: High school diploma or GED equivalent.
Driver's License: Possess a valid Washington State driver's license.
Background Check: You must pass a background check. Felony convictions and certain misdemeanors can disqualify candidates.
Drug Test: Pass a drug test as drug-free status is a requirement.
Physical and Medical Requirements
Physical Fitness: Participate in and pass the Candidate Physical Abilities Test (CPAT) or a similar physical assessment.
Medical Examination: Pass a thorough medical examination, often based on NFPA 1582 standards, to ensure you're fit for the duties of firefighting.
Vision and Hearing: Meet specific vision and hearing standards set by the hiring department.
Education and Training
Fire Academy: Complete training at a fire academy. This provides both classroom and practical training on firefighting techniques, fire prevention, hazardous materials, emergency medical procedures, and more.
EMT Certification: Many departments require firefighters to be Emergency Medical Technicians (EMT). This requires additional training and certification.
Application and Testing
Written Exam: Pass a written examination that tests basic skills such as reading comprehension, mathematics, and mechanical reasoning.
Interview: Successfully complete an interview, often before a panel of fire department officials or community stakeholders.
Psychological Evaluation: Some departments require a psychological evaluation to determine a candidate's suitability for the stresses and challenges of the job.
On-the-job Training and Probation
After being hired, new firefighters typically undergo a probationary period. During this time, they receive additional training and are evaluated on their performance.
Continued Education and Advancement
Many firefighters continue to attend training sessions and pursue additional certifications to advance in their careers. This might include specialized training in areas like hazardous materials, fire inspection, or fire investigation.
Additional Tips
Volunteer: Many fire departments in Washington have volunteer programs. Volunteering can provide valuable experience and give you an advantage when applying for full-time positions.
Stay Physically Fit: The physical demands of firefighting are significant. Maintaining physical fitness is crucial, both for passing the CPAT and for long-term job performance.
Lastly, if you're interested in a specific city or district in Washington, it's essential to check with that local fire department for any unique requirements or procedures they might have.
How Long Does It Take to Become a Firefighter in Washington?
You are looking at a long and time consuming process. Criminal background check may take weeks if not months to clear. Also be mindful of the fact that firefighters' applications may not be accepted on a rolling basis. Which means that if you've missed the deadline, you will have to wait till the hiring process is opened again. All in all, pursuing a career as a firefighter demands substantive time investment.
How Much Do Firefighters Make in Washington?
Washington State is the third highest paying state in the United States for firefighters. In May 2022, firefighters here earned annual mean wage of $ 76,930. This is just below what firefighters earned in New Jersey and California. In other words, if you are thinking of becoming a firefighter in Washington State, you are not only looking to join a meaningful profession but also a rewarding career.
Picking the Right Degree to Become a Firefighter in Washington
Choosing the right degree to become a firefighter in Washington, or anywhere for that matter, can enhance your qualifications and prepare you for various challenges of the profession. Although a specific degree isn't always necessary to become an entry-level firefighter, pursuing higher education can make you more competitive in the hiring process and equip you for career advancement.
Here are a few degree options that can be beneficial for aspiring firefighters:
Fire Science
This is the most direct educational path related to firefighting. A degree in fire science provides comprehensive knowledge about:
Fire behavior and combustion
Fire prevention and protection systems
Emergency medical procedures
Building codes and construction
Emergency Medical Services (EMS) or Paramedicine
Since a significant portion of calls to fire departments are medical emergencies, having an EMS or paramedic degree is advantageous. Many departments require firefighters to be certified as EMTs, and some even prefer paramedic certification.
Public Administration
For those who see themselves moving up the ranks and possibly into chief or administrative positions, a degree in public administration can be beneficial. This degree covers:
Public policy and management
Budgeting and finance
Human resource management
Environmental Science
With wildfires becoming more prevalent, especially in the western U.S., understanding the environment, climate patterns, and conservation can be crucial. This degree can also be a path toward becoming a wildland firefighter.
Occupational Health and Safety
This degree focuses on creating and maintaining safe work environments, which is closely related to the fire service's goals. Courses might cover:
Workplace safety protocols
Hazardous materials management
Health and safety laws
Criminal Justice or Fire Investigation
For those interested in fire investigation, a criminal justice background can be helpful. This degree will provide insight into:
Legal procedures
Evidence collection
Criminology
Additional Considerations
Local Community Colleges: Many community colleges in Washington offer associate degree programs or certificates in fire science or related fields. This can be a cost-effective way to gain relevant education.
Advanced Degrees: Those aspiring for higher-level leadership roles within fire departments or in emergency management might consider pursuing master's degrees in relevant fields.
Networking and Internships: Regardless of the degree you choose, seek internships or networking opportunities within local fire departments or related organizations. This real-world experience, combined with your education, can be invaluable.
In conclusion, while you don't always need a degree to become a firefighter, the right educational background can provide a competitive edge in hiring processes and set you up for a successful, long-term career in fire services. Always consider your career goals and consult local fire departments in Washington to understand their specific preferences or requirements.
Firefighting Careers in Washington
Firefighting careers in Washington State offer a broad range of opportunities beyond the traditional role of suppressing fires. The increasing complexities of modern society and the challenges presented by natural disasters, medical emergencies, and other emergencies mean that the firefighting profession now encompasses a myriad of specialized roles. Here's an overview of firefighting careers and related professions in Washington:
Municipal Firefighter
This is the most common image of a firefighter – individuals responding to fires within cities and towns. They also often respond to car accidents, medical emergencies, and other situations requiring swift emergency response.
Wildland Firefighter
Washington, with its vast natural areas and forests, often sees wildfires, especially during the dry season. Wildland firefighters, sometimes referred to as forest or range firefighters, combat these blazes and work to prevent them. The Department of Natural Resources (DNR) in Washington employs many wildland firefighters.
Fire Investigator
After a fire, there's a need to determine its cause. Fire investigators examine fire scenes and gather evidence to establish a fire's origin and cause. This can be crucial for criminal investigations and insurance purposes.
Fire Inspector
Fire inspectors examine buildings to detect fire hazards and ensure that federal, state, and local fire codes are met. They might also educate the public about fire safety.
Paramedic/Firefighter
Many fire departments in Washington either require or prefer their firefighters to be trained as paramedics or EMTs. As medical emergencies constitute a significant portion of fire department calls, this dual role is increasingly common.
Aircraft/ARFF (Airport Rescue Firefighter)
Large airports, such as Seattle-Tacoma International Airport, have specialized firefighters trained to respond to aviation-related incidents and accidents.
Hazardous Materials (HazMat) Responder
These professionals are trained to handle dangerous substances, including chemical, biological, radiological, and nuclear materials. They might work with other agencies in mitigating and cleaning up hazardous materials incidents.
Fire Instructor/Trainer
Experienced firefighters might move into roles where they train new recruits or provide continuing education to current firefighters. This can be done at fire academies, community colleges, or within specific fire departments.
Fire Department Leadership Roles
As firefighters gain experience and education, they can move up the ranks, taking on roles such as Fire Lieutenant, Fire Captain, Battalion Chief, Assistant Fire Chief, and Fire Chief.
Emergency Management
Some individuals transition into broader roles in emergency management, coordinating responses to large-scale emergencies, disasters, and public health issues. This might involve working for state agencies, local municipalities, or federal entities.
Tips for Pursuing Firefighting Careers in Washington
Volunteer: Many fire departments in Washington start with volunteers. This is an excellent way to gain experience and understand the profession.
Education: Consider obtaining a degree or certificate in fire science, emergency management, or a related field from accredited institutions in Washington.
Physical Fitness: Stay in good physical shape. Firefighting is physically demanding, and regular fitness can help you pass required tests and perform on the job.
Networking: Build relationships within the firefighting community. Attend job fairs, join firefighter associations, or participate in community events to meet professionals in the field.
Washington State offers a diverse range of environments, from bustling urban centers to dense forests. This diversity translates into varied opportunities within the firefighting and emergency response professions. Whatever path you choose, it promises both challenges and the rewarding experience of serving the community.
Firefighter Colleges in Washington
Washington State hosts several institutions, including community colleges and training academies, that offer fire science and related programs tailored for those aspiring to become firefighters or move up in the ranks. Here's a list of some of the noteworthy colleges and academies offering such programs in Washington:
Washington State Fire Training Academy
Located in North Bend, this is the primary training institution for firefighters in the state. It provides basic fire training as well as advanced courses in specialized areas.
Spokane Community College
Located in Spokane, the college offers an Associate in Applied Science (AAS) degree in Fire Science. They also provide training for EMTs and paramedics, which is a crucial part of modern firefighting.
Tacoma Community College
This institution in Tacoma offers courses in fire services leadership and fire command administration.
Central Washington University
Located in Ellensburg, CWU provides a Bachelor's degree program in Fire and Emergency Services Administration, tailored for those looking to move into leadership positions within the fire service.
Bellevue College
Located in Bellevue, this college offers programs in Fire Science Technology and also has a transfer degree designed for those wishing to move on to a four-year institution.
Everett Community College
Located in Everett, the college provides an Associate's degree in Fire Science, with a curriculum designed to prepare students for careers in firefighting, fire prevention, and fire service management.
South Puget Sound Community College
In Olympia, this college has a Fire and Emergency Services Administration program, which is a transfer degree tailored for those wanting to pursue a bachelor's degree at a four-year institution.
Pierce College
Located in Lakewood, Pierce College offers a Fire Services Leadership and Management program designed to help existing firefighters move up in the ranks.
Renton Technical College
In Renton, this institution provides a Firefighter I Academy and other related courses.
North Seattle College
Based in Seattle, the college offers an Associate of Applied Science degree in Fire Science, preparing students for both firefighting roles and leadership positions.
If you're considering a career in firefighting in Washington, it's a good idea to reach out to these institutions directly. They can provide specific details about course offerings, admission requirements, financial aid opportunities, and other pertinent information. Additionally, consider reaching out to local fire departments for guidance; they may have partnerships or recommendations for specific educational programs.
Fire Departments in Washington
Washington State is home to numerous fire departments that serve its diverse communities, from bustling urban areas to remote rural locations. These fire departments offer a range of services, including fire suppression, emergency medical services, and fire prevention education. Here's a list of some notable fire departments in Washington:
Seattle Fire Department (SFD):
As the largest city in the state, Seattle's fire department is one of the most active, serving both the urban core and surrounding neighborhoods.
Spokane Fire Department:
Serving the second-largest city in Washington, this department addresses urban challenges on the eastern side of the state.
Tacoma Fire Department:
Covering the city of Tacoma, this department offers a range of services to the local community.
Bellevue Fire Department:
This department serves the city of Bellevue and some surrounding areas, providing both firefighting and EMS services.
Vancouver Fire Department
Located in the southern part of the state, near Portland, Oregon, this department serves the city of Vancouver and nearby areas.
Everett Fire Department
Serving the city of Everett, this department provides a range of fire and emergency services.
Olympia Fire Department
The capital city's fire department offers services that include fire suppression, emergency medical response, and fire prevention education.
Bellingham Fire Department
Serving the northern city of Bellingham, this department addresses both urban and waterfront-related challenges.
Tri-Cities Fire (comprising Kennewick, Pasco, and Richland):
The Tri-Cities area has multiple departments serving its growing communities.
Yakima Fire Department
Located in Central Washington, this department serves the city of Yakima and its surrounding regions.
Washington State Department of Natural Resources (DNR) Wildfire Division:
While not a traditional municipal fire department, the DNR plays a vital role in combating and preventing wildfires throughout the state.
Pierce County Fire Districts
Pierce County has several fire districts serving various communities, like Puyallup, Lakewood, and more.
King County Fire Districts
Similarly, King County has multiple fire districts that serve areas not covered by city fire departments, such as Redmond, Renton, Kent, and other regions.

Snohomish County Fire Districts
Several fire districts serve communities within Snohomish County, such as Lynnwood, Edmonds, and others.
These are just a few of the many fire departments in Washington. Numerous smaller towns and rural areas have their own fire districts or volunteer fire departments, which are essential in serving local communities and responding to emergencies. If you're interested in a particular region or department, it's a good idea to visit their official website or contact them directly for more specific information.
Other States