4 Steps Guide to Become a Firefighter in Washington
In 2016, 1,000 fire incidents in the state of Washington resulted in 1.8 deaths and 9 injuries. The national average for 1,000 fires is 2.4 deaths and 9.3 injuries. If the state of Washington has been able to beat the national average, it is due to its professional firefighting force.
Featured Programs and Schools
If you want to become a firefighter in Washington then continue reading the minimum qualifications to become a firefighter in the state, the hiring process, training, and salary and career outlook.
To become a firefighter in Washington, you will have to clear the following steps:
Step 1: Obtain a High School Diploma
The state of Washington has made it mandatory for all aspiring firefighters to have at least a high school diploma or a GED certificate. Some fire departments also require candidates to have a college degree in subjects like Fire Science.
Step 2: EMT Certification
Like quite a lot of states in the US, Washington has also made it mandatory for candidates to have an Emergency Medical Technician Certification.
Step 3: Pass the Hiring Process
Once you apply for the position of a firefighter and your application is accepted, you will have to go through a strict hiring process. You will have to clear the CPAT, a written test, an oral interview, physical examination, psychological assessment, and a thorough background and drug screening.
Step 4: Fire Academy Training
You will also have to complete training at a fire academy. At the fire academy, you will be taught how to put out fires, how to use equipment properly, the precautions you should take, etc.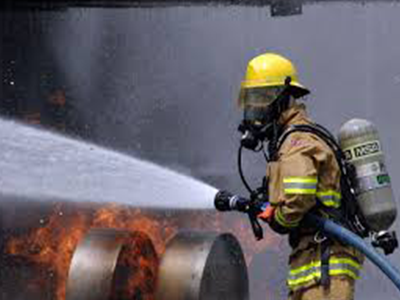 If you can fulfill the following minimum qualifications, you can begin the application process:
Candidates must be at least 18 years of age
Candidates must have a high school diploma or its equivalent GED
Candidates must hold the state's valid driver's license
Candidates must have a current Washington state EMT certification, or
Be eligible for EMT certification upon hire
Meet all the steps of the hiring process.
How to Become a Wildland Firefighter in Washington?
Wildland firefighting agencies work at federal level. There are specific guidelines to become a wildland firefighter as laid out by every respective agency. You will have to get the required education, pass the hiring process, and clear physical training, etc.
Complete work attitudes questionnaire online. This takes about half an hour to complete.
Firefighter Testing Assessment – A 2.5 hour test on math, reading, mechanical reasoning components and human relations.
Oral Board Exam – Is the third step in the hiring process, which requires clearing the first two steps.
Once you clear these three steps, your name is listed on the Firefighter Register. The next phase is called Pre-Employment Screening and only the top 25 percent of candidates on the Firefighter Register proceed to this phase.
Pre-Employment Screening
Employment Packet
asks questions on education and employment history. You can submit your resume, letters of recommendation and other supporting documents with this packet.
Screening Exams
these exams assess your emotional stability, personality style and personal history.
Candidate Physical Ability Test (CPAT)
this test measures a candidate's physical suitability for the job. Being a firefighter is one of the toughest jobs on the planet and you should be physically fit enough to perform your daily duties.
Interview with Fire Chief
this is a formal business interview and if you clear this stage you will be offered conditional employment.
Medical, Psychological and Background Check
a thorough medical checkup conducted by a licensed physician. In addition to taking blood and urine samples, you will be asked to fill in a medical questionnaire. Furthermore, a clinical psychologist will interview you. The background check includes a review of both, your driving record and criminal history.
If you pass all these steps successfully, you will be made an unconditional offer of employment.
Training
Once you accept the offer, your training starts. Recruits get paid during this phase. Once you complete the firefighters training program, you start your yearlong probationary period. Upon successful completion of this period, you will receive Firefighter II certification and permanent appointment as a firefighter.
How Long Does It Take to Become a Firefighter in Washington?
You are looking at a long and time consuming process. Criminal background check may take weeks if not months to clear. Also be mindful of the fact that firefighters' applications may not be accepted on a rolling basis. Which means that if you've missed the deadline, you will have to wait till the hiring process is opened again. All in all, pursuing a career as a firefighter demands substantive time investment.
How Much Do Firefighters Make in Washington?
Washington State is the third highest paying state in the United States for firefighters. In May 2020, firefighters here earned annual mean wage of $77,700. This is just below what firefighters earned in New Jersey and California. In other words, if you are thinking of becoming a firefighter in Washington State, you are not only looking to join a meaningful profession but also a rewarding career.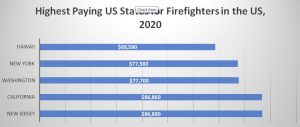 Source: US Bureau of Labor Statistics
Career Outlook
According to the US Bureau of Labor Statistics, 6,520 firefighters were working in Washington in 2020. O*Net Online predicts an 11% increase in job opportunities for these professionals in Washington from 2018 and 2028.
Other States