Requirements to Become a Firefighter
Firefighters like the police are the first responders who protect life and property. A highly regulated profession, firefighting requires meeting minimum educational and training requirements for entry level positions. If you are thinking of becoming a firefighter then be prepared to spend a considerable amount of time in trying to get into this field.
Featured Programs and Schools

First things first, you must meet minimum requirements to have a chance at getting hired as a firefighter.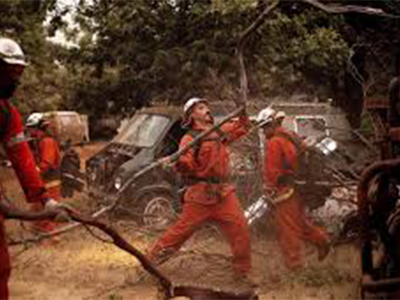 Minimum Requirements
Must be 18 years old or older at the time of application
Must hold a high school diploma or GED at the time of application
Must hold a valid driver's license at the time of application
Must be drug free for the past 12 months (time requirement may vary from employer to employer)
The above mentioned are some of the very basic requirements to becoming a firefighter; meeting these alone do not guarantee that you'll become one. This is just the start. If you fulfill these requirements then follow the upcoming steps/requirements.
Education and Qualifications
As mentioned earlier, you must hold a high school diploma or GED in order to apply for the firefighter's job. However, be mindful of the fact that new firefighter's jobs are expected to grow at the rate of 7% from 2016 to 2026. This roughly translates into 23,500 new jobs. So, you are essentially looking at a stiff competition and therefore you must stand out amongst your peers to get selected. How do you do that?
Tips:
Take a course or two in fire science at your local community college. Plus, get CPR certified. Once you get hired, your employer will get you EMT certified and perhaps even paramedic certified, but if you have some background in emergency medical services before you apply, it will increase your chances of getting selected manifold.
There is one more thing you can do to maximize your chances of getting selected and that is doing volunteer work at your local fire station. Fire stations offer such opportunities and you should avail them if you want to become a firefighter one day.
Once you have fulfilled all the requirements, it is time to apply for the job. However be mindful of the fact that hiring process and duration will differ from county to county and state to state. Therefore treat the following information as a general guideline:
Requirements of the Application Process 
Application
will require all questions to be answered completely.
Residency requirements
some employers may have this requirement; others may not.
Psychological Profile Evaluation
this step consists of several written tests and an interview to assess a candidate's psychological suitability for a career in firefighting.
Medical Examination
this examination is conducted by a licensed physician and the candidate must get an "A" classification in order to pass this exam and continue in the selection process.
Polygraph Test
this test is conducted by a certified polygraph examiner and may take up to four hours to complete. The test is conducted to measure the accuracy of information provided in the application.
Written Exam
this will have reading comprehension, grammar, physics and basic math multiple-choice questions. You will be asked to complete this exam in the allotted time. In order to be considered for the job, you will have to obtain a passing score.
Candidate Physical Abilities Test (CPAT) Preparation
If you are asked to take this test then you will be given an opportunity to familiarize yourself with this test first.
Personal History Statement and Documents Review
the Personal History Statement must be notarized and mailed as one packet along with all required documents. The Personal History Statement must not be incomplete, misleading or untruthful and inaccurate or you will be disqualified from the application process.
The application process is a lengthy one and therefore you can expect it to take up to a year or more.
If you are hired, you will be asked to report at a particular fire academy for training.
Should I Become a Firefighter in the US?
Becoming a firefighter in the US can be a rewarding and fulfilling career for many people who are interested in public service and helping others. However, it's important to consider the risks and challenges that come with the job.
Firefighting is a physically demanding job that requires individuals to be in good physical shape and have the ability to work in high-stress situations. The job can also be dangerous, as firefighters are often called upon to put themselves in harm's way to save lives and protect property.
Additionally, firefighting can be a competitive field, with many individuals vying for a limited number of positions. In some areas, there may also be a high risk of layoffs or job instability.
That being said, for those who are passionate about the profession, firefighting can offer a fulfilling career with opportunities for advancement and a strong sense of community. It's important to thoroughly research the job and understand the risks and rewards before deciding if it's the right path for you.
How Long Does It Take to Become a Firefighter in the US?
The length of time it takes to become a firefighter in the US can vary depending on the requirements of the specific department and the individual's qualifications. In general, becoming a firefighter in the US can take several months to several years.
Most fire departments require candidates to have a high school diploma or equivalent, and some also require college coursework in areas such as fire science or emergency management. Candidates must also typically pass a written exam, a physical fitness test, and an interview.
Once hired, firefighters undergo extensive training, which can last several months or longer. The training typically includes classroom instruction, hands-on drills, and on-the-job experience under the supervision of experienced firefighters.
In some cases, firefighters may also need to obtain certification as an Emergency Medical Technician (EMT) or paramedic, which can require additional coursework and training.
Overall, becoming a firefighter requires dedication and a commitment to ongoing training and professional development. It's important to research the specific requirements and qualifications for the department you're interested in and to be prepared to invest the time and effort necessary to pursue a career in firefighting.
Training
The time you spend at a fire academy under training varies from academy to academy. On the whole, you can expect to be trained for a few months (unless you want to become a wildland firefighter). However, what all academies do is that they teach you firefighting and fire prevention techniques both in class and on field. You would also get EMT certified and depending upon your employer, paramedic certified.

In addition to getting you trained on modern technology, you would also be taught how to fight fire with more traditional means like axes, chain saws, ladders and fire extinguishers.
If you are training to become a wildland firefighter then your apprenticeship may last for up to 4 years. Wildland firefighter's apprenticeship programs combine on-the-job training with theoretical instructions imparted under the supervision of experienced firefighters.
Once you have graduated from your fire academy, you start serving your probationary period.