Should I Become a Firefighter in Texas?
Whether you are a high school graduate looking to become a firefighter or want to change your career path, make sure you have all the information before entering the field. According to the 2022 US Bureau of Labor Statistics (BLS), Texas is second on the list of the states with the highest employment level for firefighters. The estimated employment for firefighters in Texas is 25,080.
Firefighting is a rewarding career and provides plenty of job satisfaction. As first responders, they get to save lives and property, work as a team, and play a positive role in community. No doubt a challenging profession, it comes with many risks and being constantly on call. So, before you decide to go ahead with the profession, make sure you are completely convinced that it is the right job for you.
Featured Programs and Schools
| | |
| --- | --- |
| Educational Requirements | Postsecondary nondegree award |
| Licensure/Certification | Certification and License is mandatory |
| Experience/Training | Firefighter Training Academy |
| Key Skills | Quick Response, Teamwork, Courage, Physical Fitness, Adaptability, Work Under Pressure, Mechanical Aptitude, First Aid |
| Annual Mean Salary – US (2022) | $ 56,310 |
| Annual Mean Salary – Texas (2022) | $ 53,630 |
| Job Outlook – US (2020 – 2030) | 14% |
Source: US Bureau of Labor Statistics
Job Description of a firefighter in Texas
The job description for a firefighter can vary slightly depending on the specific location and department, but here is a general outline of what the job description of a firefighter in Texas might include:
Job Title
Department
Location
Various Fire Stations within the jurisdiction
Reports To
Fire Captain / Fire Lieutenant
Position Summary
Respond to fire emergencies, medical incidents, and other rescue situations to protect life, property, and the environment. Work under the direction of a Fire Captain or Fire Lieutenant.
Essential Duties and Responsibilities
Emergency Response
Respond to fires, medical emergencies, hazardous materials incidents, rescues, and other emergency and non-emergency situations.
Fire Suppression
Operate various types of fire equipment and tools to suppress fires, including hoses, extinguishers, and fire suppression agents.
Medical Assistance
Provide basic and/or advanced life support, depending on certification, and assist paramedics in the delivery of medical care.
Equipment Operation
Safely operate fire vehicles and other apparatus during emergency operations.
Maintenance
Perform routine maintenance on fire vehicles, equipment, and tools to ensure operational readiness.
Inspection
Participate in regular inspections of properties for fire hazards and enforce fire codes.
Training
Participate in ongoing training and education programs to maintain and enhance skills and certifications.
Public Education
Engage in community outreach and education initiatives, including fire safety talks and demonstrations.
Administrative Duties
Complete incident reports, participate in department meetings, and perform other administrative duties as assigned.
Teamwork
Work closely with other emergency service personnel, including police and EMS, to provide coordinated and effective emergency response.
Qualifications
High School Diploma or GED.
Texas Commission on Fire Protection (TCFP) certification or equivalent.
EMT or Paramedic certification is a plus.
Valid Texas Driver's License.
Physical and medical fitness suitable for the demands of the job.
Skills and Abilities
Excellent communication skills.
Strong problem-solving and decision-making abilities.
Physical stamina and agility.
Ability to work under stressful conditions.
Working Conditions and Physical Requirements
Must be able to lift heavy equipment and tools.
Exposure to extreme weather conditions.
Work involves risks or discomforts requiring special safety precautions.
Compensation and Benefits
Salary and benefits vary depending on location and experience.
Additional benefits may include retirement plans, health insurance, and paid leave.
This job description is not exhaustive and may be modified as needed to suit the specific requirements of individual fire departments.
Guide to Become a Firefighter in Texas
To become a firefighter in Texas, you have to complete the following steps:
Step 1: Get High School Education
To become a firefighter in Texas, you will have to complete high school education or get an equivalent GED. These educational credentials will make you eligible to complete a fire suppression training program.
Step 2: Get an EMT Certification
Getting an Emergency Medical Technician (EMT) certification might or might not be mandatory. This requirement varies from city to state and from state to state so, it is advisable that you conduct proper research before applying for the position of a firefighter.
Step 3: Apply for the Job
Once you have completed all the prerequisites, you can apply for the position of a firefighter at the fire department of your choice.
Step 4: Clear the Screening Process
Once your application is accepted, you will have to pass a comprehensive screening process. Every fire station has its own criteria, but generally you will have to pass a written exam, an oral interview, a background check, drug screening, and a medical exam, etc.
Step 5: Get Certification
Once you have passed the screening process, you will have to get the Texas Commission on Fire Protection Basic Fire Suppression Certificate. You will have to pay a certain fee to obtain this certificate.
Step 6: Complete Fire Academy Training
You will also have to pass fire academy training. The duration will depend on the fire department you apply to.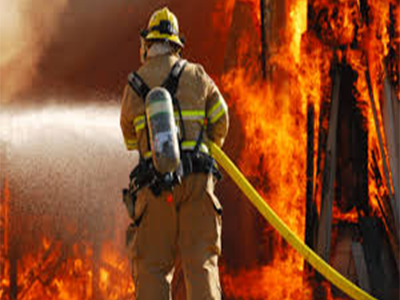 Age Limit To Become A Firefighter In Texas
To become a firefighter in Texas, you have to follow the guidelines laid out by The Texas Commission on Fire Protection. The minimum age requirement to join the field of firefighting in Texas is 18 years. In order to become a firefighter in Texas you will have to meet other requirements as well so, it is important that you go through the entire process beforehand.
Eligibility Requirements to Become a Firefighter in Texas
Meet the minimum and maximum age requirement
Have a high school diploma or GED
Be certified as EMT-B (or higher) by the State of Texas or enrolled in a qualifying course
Be willing to graduate from a firefighter training academy, or
Be certified/certifiable by The Texas Commission on Fire Protection
Be able to pass a background check
Have no felony convictions and no recent misdemeanors
Have a valid driver's license
Have a clean driving record
These are some of the minimum qualifications for you to meet if you want to work as a firefighter in the state of Texas. In addition to these your city's fire department may have its own requirements such as passing the entrance exam, etc.
However, there is one requirement which is mandatory across all fire departments in the state of Texas and that is getting certified as a firefighter with the Texas Commission on Fire Protection (TCFP). This is mandatory especially if you want to work as a paid firefighter in Texas.
TCFP Basic Fire Suppression Certification
You can earn this certification by fulfilling the following 6-steps:
Finish a basic fire fighter training program
Exhibit that you can perform basic firefighting skills
Pass the state certification test
Complete your emergency medical responder training
Pass a criminal history background check and get fingerprinted
Apply for the certification
How Long Does It Take to Become a Firefighter in Texas?
To earn TCFP Basic Fire Suppression Certification, it will take you months, if not years. This is in addition to spending time on fulfilling the minimum and specific qualifications to become a firefighter in your city. In short, the time it will take you to become a firefighter in Texas may be as little as a few months to 5 years, going up to 7 years.
How Much Does a Firefighter Make in Texas?
According to the US Bureau of Labor Statistics (BLS), the mean annual wage of firefighters in Texas (as reported in May 2022) was $53,630. Below is a list of the highest paying US states for firefighters:
| | |
| --- | --- |
| State | Annual Mean Wage |
| California | $ 78,350 |
| New Jersey | $ 77,740 |
| Washington | $ 76,930 |
| New York | $ 73,5200 |
| Hawaii | $ 72,880 |
Source: US Bureau of Labor Statistics
Career Outlook for Firefighters in Texas
According to BLS (2022), the state of Texas is the second biggest employer of firefighters in the US. There were 25,080 firefighters in the state in May 2022. Here is a list of the US states with the highest employment level for firefighters in 2022.
| | |
| --- | --- |
| State | Employment  |
| California | 32,930 |
| Texas | 25,080 |
| Florida | 21,580 |
| Ohio | 18,790 |
| Illinois | 16,210 |
Source: US Bureau of Labor Statistics
Firefighting Careers in Texas
Firefighting careers in Texas offer a variety of opportunities for individuals interested in public service, emergency response, and community involvement. Here is an overview of what to expect when pursuing a firefighting career in Texas:
Types of Firefighting Careers
Municipal Firefighter: These firefighters work in cities and towns and are usually full-time employees. They respond to fires, medical emergencies, and other incidents within their jurisdiction.
Wildland Firefighter: Texas, being a state with varied terrains including forests and grasslands, has a need for wildland firefighters who combat forest fires and brush fires.
Industrial Firefighter: Some large industrial complexes, especially in the oil and gas sector, employ their own firefighters.
Airport Firefighter: Airports require specialized firefighters trained to deal with aircraft fires and other aviation-related emergencies.
Fire Investigator: These professionals investigate the cause of fires and may work for fire departments, insurance companies, or independent agencies.
Fire Instructor/Trainer: Experienced firefighters may move into roles where they train new recruits or provide ongoing education for active firefighters.
Requirements
Education: At minimum, a high school diploma or GED is usually required.
Certifications: You'll need to be certified by the Texas Commission on Fire Protection (TCFP) and possibly hold an Emergency Medical Technician (EMT) or Paramedic certification.
Physical Fitness: A stringent physical test is usually a part of the selection process.
Background Check: A thorough background check, including criminal history, is standard.
Driving Record: A valid Texas Driver's License with a clean driving record is generally required.
Training
Fire Academy: Training at a certified Fire Academy is a critical step and covers firefighting basics, emergency medical procedures, and more.
Probation: New hires usually go through a probationary period where they work under close supervision.
Continued Education: Firefighters are expected to continue their education and training throughout their careers, including specialized areas like hazardous materials handling or high-angle rescue.
Job Prospects
Demand: Texas has many large cities like Houston, Austin, Dallas, and San Antonio, as well as numerous smaller towns and rural areas, each with their own firefighting needs.
Salary: The salary can vary widely depending on the location, size of the department, and level of experience.
Advancement: Opportunities for promotion usually exist, with roles like Fire Lieutenant, Fire Captain, and Fire Chief as possible career advancements.
Benefits: Retirement plans, health insurance, and other benefits are usually part of the compensation package.
Challenges
Physical and Emotional Stress: The job is physically demanding and can be emotionally stressful.
Work Schedule: Firefighters often work long shifts, including nights, weekends, and holidays.
Risk: Despite advances in technology and equipment, firefighting remains a hazardous occupation.
Public Scrutiny: As public servants, firefighters' actions are often under scrutiny, requiring a high level of professionalism at all times.
If you're interested in a firefighting career in Texas, it's advisable to start by contacting local fire departments or educational institutions that offer fire science programs to get information about specific requirements and opportunities in your area.
Firefighter Colleges in Texas
Texas offers a variety of firefighter colleges, academies, and training programs to prepare individuals for a career in firefighting. These programs are often certified by the Texas Commission on Fire Protection (TCFP) and may also offer Emergency Medical Technician (EMT) or Paramedic training, which is a beneficial credential for aspiring firefighters. Here are some examples of places where you can receive firefighter training in Texas:
Community Colleges
Tarrant County College (Fort Worth) – Offers an Associate of Applied Science (AAS) in Fire Protection Technology and other fire service certifications.
Houston Community College (Houston) – Provides various Fire Science Technology programs, including an AAS degree and certificates.
Collin College (McKinney) – Offers Fire Science and Emergency Medical Services programs, including basic fire suppression and fire officer training.
San Antonio College (San Antonio) – Offers an AAS in Fire Science Technology, as well as certificates.
Austin Community College (Austin) – Offers a Fire Protection Technology program with an option to specialize in Fire and Arson Investigation.
Universities
Texas A&M Engineering Extension Service (TEEX) – Located in College Station, this is one of the most recognized fire training programs in the nation.
University of Texas at Arlington – Offers a Bachelor's degree in Fire Administration.
Fire Academies
Dallas Fire-Rescue Training Academy (Dallas) – Provides training specifically tailored to the Dallas Fire Department but is indicative of the type of training found in city-based academies.
Austin Fire Department Training Academy (Austin) – Similar to Dallas, Austin has its own fire academy to train recruits for their specific environment and protocols.
San Antonio Fire Training Academy (San Antonio) – Provides in-depth training for fire suppression, emergency medical service, and specialized rescue tactics.
Specialized Training Centers
Texas Engineering Extension Service (TEEX) Brayton Fire Training Field (College Station) – One of the largest live-fueled fire training facilities in the world.
Texas Fire Academy (San Marcos) – Offers basic and advanced training courses for firefighting and emergency medical services.
Enrollment and Curriculum
Programs typically include coursework in:
Fire suppression techniques
Hazardous materials handling
Emergency medical procedures
Fire prevention and safety
Fire code enforcement
Practical training is also an essential part of the curriculum, often with live-fire exercises and emergency medical scenarios.
Before enrolling in any program, it's advisable to verify its accreditation and check whether it meets the standards set by the Texas Commission on Fire Protection (TCFP). You should also determine whether the program provides job placement assistance and what percentage of graduates successfully obtain firefighting jobs.
Fire Departments in Texas
Texas has a wide variety of fire departments, ranging from small volunteer outfits serving rural communities to large, professional organizations serving major cities. Here are some types and examples of fire departments in Texas:
Large City Fire Departments
These departments serve major cities in Texas and are typically well-funded and well-staffed, offering a wide range of services.
Houston Fire Department – One of the largest fire departments in the United States, serving the city of Houston.
Dallas Fire-Rescue Department – Provides comprehensive firefighting, rescue, and emergency medical services in the city of Dallas.
San Antonio Fire Department – Covers the city of San Antonio, providing fire suppression, emergency medical services, and other specialized services.
Austin Fire Department – Serves the capital city of Texas, Austin, with an array of services from fire suppression to public education.
Suburban and Smaller City Departments
These departments serve suburban communities or smaller cities and may offer a combination of professional and volunteer opportunities.
Plano Fire-Rescue – Serves the city of Plano, providing a variety of emergency services.
Fort Worth Fire Department – Provides emergency services to the Fort Worth area.
Arlington Fire Department – Serves the Arlington community with services ranging from fire suppression to community outreach programs.
Specialized Fire Departments
Some departments serve specific needs and areas, such as airports or industrial complexes.
DFW Airport Fire Services – Serves Dallas-Fort Worth International Airport.
Port of Houston Fire Department – Specializes in handling fires and other emergencies at one of the busiest ports in America.
Volunteer and Combination Departments
Many rural communities and smaller towns in Texas rely on volunteer firefighters. Some departments are "combination" departments, with both career and volunteer firefighters.
Gruene Volunteer Fire Department – Serves the Gruene community as a volunteer organization.
Boerne Fire Department – A combination department serving the city of Boerne, Texas.
Wildland Firefighting
In addition to municipal fire departments, Texas also has organizations dedicated to fighting wildfires.
Texas A&M Forest Service – Involved in fighting and preventing wildfires across the state.
Texas Wildfire Relief Fund – Provides assistance to volunteer firefighters fighting wildfires.
Employment Opportunities
Employment opportunities vary by department, but most large city departments offer competitive salaries, benefits, and opportunities for advancement. Qualification requirements also differ, though most require at least a high school diploma or GED, TCFP certification, and often some level of EMT or Paramedic certification.
Whether you're interested in volunteering in a rural community or pursuing a career in a large urban area, Texas has a wide range of options to consider.
Please note that this information is subject to change, and it's advisable to visit the official websites of these departments or contact them directly for the most current information.

Other States