How Long Does It Take to Become a Firefighter?
Firefighters typically hold a high school diploma or GED and emergency medical technician (EMT) certification. In addition, once they are hired as firefighters, they undergo training at a fire academy. While completing the high school diploma will take you 12 years, it takes a few months if not years to get EMT certified. Your fire academy training will differ, but will typically last for at least 3 months. All in all, you are looking at a significant time investment if you are thinking of becoming a firefighter.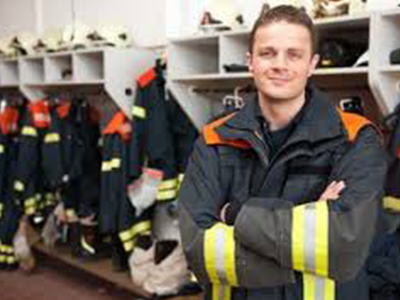 Education
As mentioned earlier, firefighters hold at least a high school diploma or GED, which usually takes 12 years to complete. While you do not need to have a college degree, if you do obtain some college-level education (say courses in fire science at your local community college), it may help your job or promotion prospects in the future.
In addition to graduating from high school, you may need to be EMT certified. Whether you need to get this certification before you apply for the job is something you'll need to check with your local fire station. In case if you do get EMT certified before applying for the job, it may once again only help with your job prospects.
How Long Does It Take to Get EMT Certified?
You will typically need to have a high school diploma and cardiopulmonary resuscitation (CPR) certification in order to get into the EMT certification program. You can get EMT certified in one to two years. Technical institutes, community colleges and universities and emergency care training facilities usually offer EMT certification programs.
You must be at least 18 years old and hold a valid driver's license to apply for a firefighter's position.  Getting hired as a firefighter will take time too. Firefighters' jobs are growing at a moderate rate and therefore you should be mentally prepared to wait for that call from your future employer.
However once you get the call, be prepared to take a series of written and physical tests and interviews. You will also be subjected to a medical exam and drug screening. Needless to say, you need to pass both of these tests. Once you have passed all these stages successfully, you will be asked to report to a particular fire academy for training.
Training at a Fire Academy
Once you are asked to report at a particular fire academy, your training will start. As mentioned earlier, the duration will vary but be prepared to spend at least three months in training if not more. You will be trained both in-class and in the field, teaching you firefighting and fire-prevention techniques. Some firefighters may also attend federal training sessions sponsored by the National Fire Academy.
Those firefighters who wish to become wildland firefighters should know that their apprenticeship may last up to 4 years.
Certifications
In addition to getting EMT certified, firefighters may also be required to get certified as a paramedic. It will take you anywhere from six months to two years to get certified as a paramedic.
Career Advancement
If you have joined the fire department with the hope of becoming fire chief one day, then you should know that it will take you years to become one. You can work your way up by passing examinations, gaining experience and earning promotions all the way to deputy chief – fire chiefs however get elected in most cases.
Fire Department Hierarchy
The following information will give you a clearer picture on how long it will take you to become a fire chief. The following is in ascending order:
Firefighter
Engineer
Lieutenant
Captain
Battalion chief
Assistant chief
Deputy chief
Chief
Also, be mindful of the fact that fire chiefs typically hold a bachelor's degree in fire science or a related major. A bachelor's degree in fire science will typically take you 4-years of college level education.