How to Become a Firefighter in Illinois?
According to the U.S. Fire Administration, in 2021, out of 1,000 fires, there were 2.7 deaths and 11.6 injuries in the state of Illinois. This is a worrisome figure as the nationwide figures for deaths and injuries were 2.3 and 7.2 respectively.
Featured Programs and Schools
Steps to Become a Firefighter in Illinois
To protect its residents, the state of Illinois employs a large professional firefighting force, comprising of approximately 16,210 persons. This makes Illinois the fifth biggest employer of firefighters in the US according to the US Bureau of Labor Statistics.
The process of becoming a firefighter can vary from one jurisdiction to another, but in the state of Illinois, there are general steps that aspiring firefighters typically need to follow. Here is a general outline of how one can become a firefighter in Illinois:
Educational Requirements
High School Diploma or GED: Having a high school diploma or equivalent is typically the minimum educational requirement for becoming a firefighter.
Basic Qualifications
Age Requirement: Usually, you have to be at least 18 or 21 years old, depending on the department's requirements.
Citizenship: Must be a U.S. citizen or have legal authorization to work in the U.S.
Driver's License: A valid driver's license is often required.
Physical and Background Tests
Physical Fitness Test: Applicants will likely have to pass a physical fitness test that could include various exercises like push-ups, sit-ups, and running.
Medical Examination: A thorough medical exam, which often includes a drug test, is generally part of the hiring process.
Psychological Evaluation: Some departments require a psychological evaluation to determine suitability for the role.
Background Check: A criminal history background check is often part of the process. Felonies and certain misdemeanors can disqualify an applicant.
Training and Exams
Written Exam: Many departments require candidates to take a written exam that tests general knowledge, problem-solving skills, and basic firefighting concepts.
CPAT (Candidate Physical Ability Test): This test measures your physical ability to perform the job tasks commonly required in firefighting.
EMT Certification: Many departments in Illinois require at least an EMT-Basic certification. Some may even require Paramedic certification.
Fire Academy Training: Upon passing all tests and receiving a conditional offer, recruits usually go through a fire academy training program.
Probationary Period: After graduating from the academy, firefighters often have to complete a probationary period during which their performance is closely monitored.
Continuing Education and Career Advancement
Additional Certifications and Training: Firefighters are often required to undergo additional training and earn specialized certifications throughout their career.
Promotional Exams: Advancement within the department typically requires taking promotional exams and acquiring further training and experience.
Application Process
Job Openings: Keep an eye on job openings and application periods. These may be posted on the department's website, on state job boards, or in local newspapers.
Application Submission: Follow the guidelines to submit your application before the deadline.
Interview: If your application is shortlisted, you'll typically have to go through one or more interviews as part of the selection process.
Optional Steps
Fire Science Degree: Although not typically required, some candidates choose to complete an associate's or bachelor's degree in fire science to gain a competitive edge.
Volunteer Experience: Gaining experience as a volunteer firefighter can be an excellent way to get a feel for the job and can sometimes lead to full-time positions.
It's important to note that requirements and steps may vary depending on the specific city or district in Illinois you're applying to. Always check with the specific fire department for the most accurate and up-to-date information.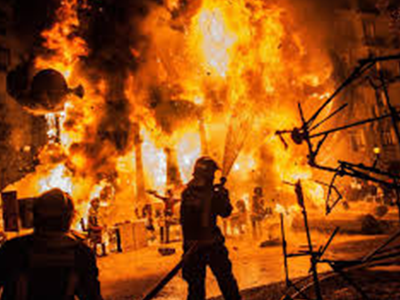 How Long Does It Take to Become a Firefighter in Illinois
The time it takes to become a firefighter in Illinois can vary depending on a number of factors including the specific department's hiring cycle, training requirements, and whether you are starting with any prior qualifications like EMT or paramedic certification. Here's a general timeline:
Educational Requirements
High School Diploma or GED: This can take 12 years of primary and secondary education, or less if you are obtaining a GED.
Basic Qualifications
These are criteria like age and citizenship, which you either meet or don't meet.
Pre-Application Preparations
EMT Training: Emergency Medical Technician (EMT) training programs usually last about 6 months to 1 year.
Physical Fitness: Preparing for the physical fitness tests may require several months of training.
Application and Hiring Process
Job Search: The time it takes to find an open position can vary widely. Some people might find an open position immediately, while others might have to wait for several months or even years.
Application and Testing: Once a job opening is found, the application and testing process can take several months. This includes written exams, physical fitness tests, medical examinations, psychological tests, and interviews.
Background Check: This can take several weeks to a couple of months.
Training
Fire Academy: Fire Academy training can last anywhere from 3 to 6 months, sometimes longer.
Probationary Period: After successfully completing the Fire Academy, there is often a probationary period, which can last from 6 months to 1 year.
Total Time
Minimum time from meeting basic qualifications to completing all training can range from about 1 to 2 years, assuming that you find a job opening relatively quickly and pass all stages of the application process on your first try.
If you include the time for optional education such as a degree in fire science, volunteer experience, or advanced EMS certifications, the timeline can be longer.
It's also worth noting that many departments have periodic hiring cycles, which can affect how long it takes to get hired. Always check with the specific fire department in Illinois for the most accurate and current information.
How Much Do Firefighters Earn in Illinois
According to the US Bureau of Labor Statistics (2022), firefighters employed in the state of Illinois earned the following:
Annual Mean Income: $68,030.
Annual Median Income: $69,030.
Firefighting Careers in Illinois
Firefighting careers in Illinois can be diverse, offering a range of opportunities for those interested in public safety and emergency services. Here is an overview of different firefighting careers and pathways you could consider:
Municipal Firefighter
Full-time Firefighter: The most conventional firefighting role. These firefighters work for cities and towns, and responsibilities include not just fighting fires, but also responding to medical emergencies, rescues, and public education efforts.
Part-time or Paid-on-Call Firefighter: Smaller towns and districts may have part-time or paid-on-call firefighters who work on an as-needed basis, sometimes in conjunction with a full-time job in another field.
Wildland Firefighter
These firefighters specialize in combating forest fires and wildfires and often work for state or federal agencies. This role can be seasonal.
Specialized Roles within Fire Departments
Driver/Engineer: Responsible for driving the fire truck and handling the equipment.
Lieutenant/Captain: These are leadership roles within a fire department, generally requiring additional training and experience.
Fire Inspector: Conduct inspections of buildings for fire safety compliance.
Fire Investigator: Determines the cause of fires, often working closely with law enforcement.
Public Information Officer: Manages communication between the fire department and the public/media.
Emergency Medical Services (EMS)
EMT or Paramedic: Many firefighters in Illinois are also trained as EMTs or paramedics and may perform these roles either as part of their firefighting duties or as a specialized role.
Industrial Firefighter
Firefighters working in an industrial setting are responsible for preventing and fighting fires in factories, refineries, and similar settings.
Firefighting Jobs
Airport Firefighter: Specialize in aviation-related firefighting roles.
Military Firefighter: Serve as a firefighter within a branch of the armed forces.
Additional Opportunities
Firefighting Instructor: Those with experience can move into educational roles, training new generations of firefighters.
Fire Department Administrator: Roles could include Fire Chief, Assistant Chief, and other managerial positions that deal with the administrative aspects of running a fire department.
Community Risk Reduction Specialist: Focus on community education and fire prevention programs.
Requirements for Advancement
Moving up often requires
Years of experience
Additional education and training
Passing promotional exams
Leadership ability
Remember, the requirements and opportunities can vary significantly between different cities and districts within Illinois, so always check the specific qualifications and job descriptions for each role you are interested in.
Firefighter Colleges in Illinois
Illinois offers several educational institutions where aspiring firefighters can receive training and education in fire science, emergency medical services, and related fields. These programs can provide foundational knowledge and skills to help in getting hired as a firefighter and can also be beneficial for career advancement.
Here are some colleges and institutions that offer firefighter-related programs in Illinois:
Community Colleges
College of DuPage (COD): Located in Glen Ellyn, COD offers programs in Fire Science and Emergency Medical Services (EMS).
Joliet Junior College: Offers an Associate in Applied Science (A.A.S.) in Fire Science Technology as well as other fire service certifications.
Harper College: Located in Palatine, this college offers a variety of programs in fire science technology and emergency medical services.
Oakton Community College: Located in Des Plaines, Oakton offers Firefighter and Emergency Medical Technician (EMT) training programs.
Moraine Valley Community College: Located in Palos Hills, this college offers Fire Science Technology and EMT programs.
Southwestern Illinois College: Located in Belleville, they offer Fire Science programs including both degree and certificate options.
Universities
Southern Illinois University Carbondale: Offers a Bachelor of Science in Fire Service Management.
Western Illinois University: Offers a Bachelor's degree in Emergency Management, which includes coursework relevant to firefighting.
Illinois State University: Offers programs in Occupational Safety and Health, which might be relevant for those interested in fire prevention roles.
Eastern Illinois University: Offers a degree in Health Promotion and Safety Management, which includes courses in fire safety and emergency management.
Fire Academies
Chicago Fire Department Training Academy: Specifically for those looking to join the Chicago Fire Department, the academy offers essential training but usually requires you to be a recruit of the department.
Illinois Fire Service Institute: Located in Champaign, the institute offers a variety of courses and training for both new and experienced firefighters.
Please note that the availability of these programs can change, and it's important to verify the current status and admission requirements directly with the institution. Also, many of these programs may have partnerships with local fire departments to provide hands-on training opportunities.
Fire Departments in Illinois
Illinois is home to a variety of fire departments that serve communities ranging from small rural areas to large metropolitan cities like Chicago. These departments offer different types of services including fire suppression, emergency medical services, rescue operations, and fire prevention education. Below is a sampling of some fire departments across the state:
Chicago Metropolitan Area
Chicago Fire Department: One of the largest municipal fire departments in the United States, offering a wide range of emergency services including firefighting, EMS, and specialized rescue operations.
Evanston Fire Department: Serves the city of Evanston and offers both firefighting and EMS services.
Skokie Fire Department: Provides services to the village of Skokie, including fire suppression, EMS, and community education.
Oak Park Fire Department: Serves the Oak Park area, offering a variety of emergency services including fire suppression and EMS.
Schaumburg Fire Department: Located in the northwest suburbs, this department provides comprehensive emergency services.
Naperville Fire Department: Provides services to one of the largest cities in Illinois outside of Chicago, including firefighting and EMS.
Central Illinois
Springfield Fire Department: Serves the state capital with services that include fire suppression, EMS, and hazardous materials response.
Champaign Fire Department: Provides services to the city of Champaign and surrounding areas, including the University of Illinois campus.
Peoria Fire Department: Offers a wide range of services including firefighting, EMS, and special operations like water rescue.
Southern Illinois
Carbondale Fire Department: Serves the Carbondale area and Southern Illinois University, offering a range of emergency services.
Belleville Fire Department: Provides a variety of emergency services to the Belleville area including firefighting and EMS.
East St. Louis Fire Department: Offers emergency services to the East St. Louis area.
Specialized Departments
Illinois State Fire Marshal: Provides statewide oversight of fire prevention and safety standards.
O'Hare International Airport Fire Department: Specializes in aviation-related emergency services.
Naval Station Great Lakes Fire Department: Provides services to the Naval Station and surrounding areas.
Metropolitan Sanitary District of Greater Chicago: Provides specialized industrial firefighting services.
This is not an exhaustive list, and many smaller communities also have their own volunteer or combined paid/volunteer fire departments. Each department has its own application process, qualifications, and requirements for firefighters, so it's a good idea to check with specific departments for the most accurate and current information.
Other States