How to Become a Firefighter in Illinois?
The State of Illinois is one of the safest states when it comes to getting killed or injured by fire. According to one estimate, since 2002, the state has had approximately 659 incidents of wildfires. This is the third lowest in the entire US. Nonetheless, these fires resulted in damage to 9,970 acres of land. According to the U.S. Fire Administration, in 2016, out of 1,000 fires, there were 3.1 deaths and 13.4 injuries. This is a worrisome figure as the nationwide figures for deaths and injuries were 2.4 and 9.3 respectively.
Featured Programs and Schools

To protect the life and limb of its residents, the State of Illinois employs a large professional firefighting force, comprising of approximately 17,830 persons. This makes Illinois the fifth biggest employer of firefighters in the US.
If you are interested in becoming a firefighter in Illinois,You will have to complete the following steps:
Step 1: Complete a High School Diploma
If you want to become a firefighter in Illinois, you have to get a high school diploma as the first step. An equivalent GED certificate will suffice as well. Having said that, some fire departments might also require aspiring candidates to have a college degree.
Step 2: Get an EMT Certificate
You will also have to get an EMT (Emergency Medical Technician) Certificate to become a firefighter in the state of Illinois.
Step 3: Obtain CPAT Certification
You will also need a Candidate Physical Ability Test, also known as CPAT, certificate to become a firefighter in Illinois. You will have to get the CPAT well before you apply for the position of a firefighter. Since the CPAT certification has an expiry date, you should make sure you have a valid certificate when you apply for the job.
Step 4: Clear the Hiring Process
When you apply for the position of a firefighter and if your application is approved, you will have to go through a hiring process to join the ranks of firefighters in Illinois. You will have to clear tests, interviews, background checks, drug screening, etc.
Step 5: Complete Training at a Fire Academy
The final step of the process is the completion of training at a designated fire academy. The duration of the training will depend on the requirements of the fire department you choose to join.
then here is all the information you need to follow.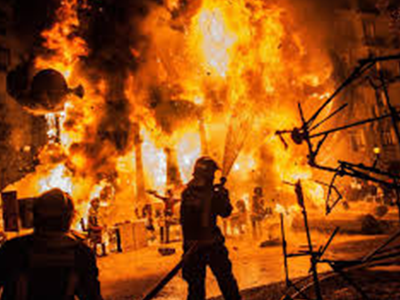 Requirements to Become a Firefighter in Illinois
Age
Applicants must be at least 20 years of age at the time of filing of application and 21 years of age at appointment. Applicants older than 34 years may not be considered for employment.
Education
Applicants must have a high school diploma or GED.
Physical Requirements
Successful completion of the Candidate Physical Ability Test (CPAT) and the ability to climb ladders. All applicants must have correctable vision to 20/20 in each eye.
Character
All applicants must be of good moral character. They must agree to be fingerprinted and during thorough background investigation must not be found convicted of a felony or certain misdemeanors.
Residence
After the recruit completes his/her probationary period, he/she must live in the county where he/she works as a firefighter or within a certain mile radius of a landmark (as specified by your employer).
Training
All applicants must possess an Illinois Emergency Medical Technician Paramedic (EMT-P) license at the time of application. Applicants holding a National Registry paramedic license or an out-of-state license can apply for the Illinois paramedic license on reciprocity basis by contacting the Illinois Department of Public Health.
Driver's License
All applicants must hold a valid driver's license at the time of hiring. However, at the time of recruit's graduation from a fire academy, he/she must hold a valid Illinois driver's license.
Citizenship
All applicants must be citizens of the US or aliens legally allowed to work in the US.
Post-Application Process
Once you fulfill the above mentioned, you are eligible to file an application. If your application is approved, you will be called for the following:
Written Test
Physical Ability Test
Oral Interview
Medical Exam/Drug Screen
Thorough Background Investigation
Psychological Interview
It is possible that your future employer may offer workshops on the written and physical ability tests and interview. If they do, you should attend these workshops to enhance your chances of passing these tests.
Fire Academy Training
Once you have cleared/passed all of the above mentioned requirements, you will be asked to report to a fire academy for training. Your training is likely to last for a few months. The curriculum will be based on classroom based instruction and practical training. You will be taught fire prevention and firefighting techniques, emergency medical procedures and local building codes. You will also be taught how to fight fire with fire extinguishers, chain saws, axes and ladders. Once you have successfully completed the program, you will start to serve your one-year probationary period.
How Much Do Firefighters Earn in Illinois and Their Job Prospects
The following table is based on statistics taken from the US Bureau of Labor Statistics (BLS) May 2017 figures and O*NET OnLine 2016 to 2026 projection:
| State | Employment | Annual Mean Wage | Percent Change | Projected Annual Job Opening |
| --- | --- | --- | --- | --- |
| Illinois | 17,830 | $55,300 | +4% | 1,270 |
If you are looking for a firefighter's job in Illinois then your best bet is to look around Chicago-Naperville-Arlington Heights, IL Metropolitan Division. This division alone employed 10,110 firefighters in May 2017, making it No.1 in the US. Here, the annual mean wage for firefighters was $65,700 – much higher than the annual mean wage of all the firefighters in the state of Illinois ($55,300).
Other States